Cancer Institute of New Jersey Nurse Honored as NJBIZ Healthcare Hero
Pediatric Hematology/Oncology Nurse Beth Savage of Brielle Named as Finalist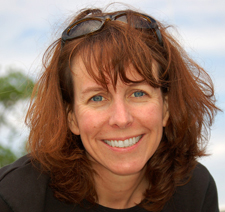 New Brunswick, N.J. – Beth Savage, RN, MSN, CPNP, a pediatric nurse practitioner at the Cancer Institute of New Jersey, has been honored as a finalist for 'Nurse of the Year' in the 2013 NJBIZ Healthcare Heroes awards program.
According to the newspaper, which has a business focus on varied industries in New Jersey, the Healthcare Heroes awards program honors individuals and organizations making a significant impact on the quality of healthcare in the state. Other awards categories include 'Hospital of the Year' and 'Physician of the Year' among many others. Finalists and winners were selected by an independent panel of judges which included members of New Jersey's business community.
Savage, a Brielle resident, provides care to patients with cancer and varied blood disorders in the Pediatric Hematology/Oncology Program at the Cancer Institute of New Jersey. She has expertise not only in treating patients with sickle cell disease, but also in educating families and other nursing professionals about the condition through community events, with poster presentations at annual nursing meetings and through newsletters and other literature.
Having received her Master of Science in Nursing from Seton Hall University Graduate School of Nursing, Savage came to the Cancer Institute of New Jersey in 2001. She has been providing pediatric care as a nurse for more than 20 years.
About the Cancer Institute of New Jersey
The Cancer Institute of New Jersey (www.cinj.org) is the state's first and only National Cancer Institute-designated Comprehensive Cancer Center dedicated to improving the detection, treatment and care of patients with cancer, and serving as an education resource for cancer prevention. Physician-scientists at the Cancer Institute of New Jersey engage in translational research, transforming their laboratory discoveries into clinical practice, quite literally bringing research to life.  To make a tax-deductible gift to support the Cancer Institute of New Jersey, call 732-235-8614 or visit www.cinjfoundation.org. Follow us on Facebook at www.facebook.com/TheCINJ. The Cancer Institute of New Jersey is a Center of Excellence of the University of Medicine and Dentistry of New Jersey-Robert Wood Johnson Medical School.
The Cancer Institute of New Jersey Network is comprised of hospitals throughout the state and provides the highest quality cancer care and rapid dissemination of important discoveries into the community. Flagship Hospital: Robert Wood Johnson University Hospital. System Partner: Meridian Health (Jersey Shore University Medical Center, Ocean Medical Center, Riverview Medical Center, Southern Ocean Medical Center, and Bayshore Community Hospital). Major Clinical Research Affiliate Hospitals: Carol G. Simon Cancer Center at Morristown Medical Center, Carol G. Simon Cancer Center at Overlook Medical Center, and Cooper University Hospital. Affiliate Hospitals: CentraState Healthcare System, JFK Medical Center, Robert Wood Johnson University Hospital Hamilton (CINJ Hamilton), Shore Medical Center, Somerset Medical Center, The University Hospital/UMDNJ-New Jersey Medical School*, and University Medical Center of Princeton at Plainsboro. *Academic Affiliate