Brain and Spine Tumor Program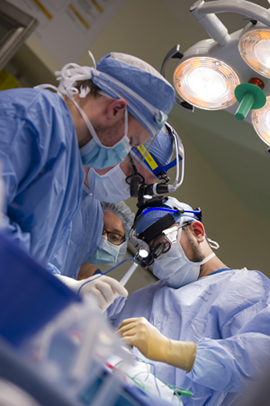 The Cancer Institute of New Jersey offers both an adult and pediatric brain and spinal cord tumor program. Both programs are multidisciplinary for tumors involving the central and peripheral nervous system in adults and children. This includes treatment for primary brain and spine tumors such as astrocytomas, oligodendrogliomas, glioblastomas, and hemangioblastomas as well as secondary tumors that may have arisen from elsewhere in the body such as the breast, lung, or prostate. The team consists of neurosurgeons, medical oncologists, radiation oncologists, nurses, and technicians who review cases using a formatted multidisciplinary approach.
Patients are evaluated for their clinical needs and are given a cohesive and consistent treatment plan based on the recommendations from the treatment team. Multimodality treatments are planned together, and collaborative approaches are designed that are best suited to the individual patient.  Physicians are actively involved in developing innovative approaches and participate in collaborative group clinical trials.
Clinical Trials:
Staff of this Program:
Robert D. Aiken, MD, Director, Neuro-oncology and Neuro-oncologist
Shabbar Danish, MD, Chief, Neurosurgical Oncology and Neurosurgeon
Alan Cohler, MD, Radiation Oncologist
Sharad Goyal, MD, Radiation Oncologist
Simon Hanft, MD, Neurosurgeon
Atif Khan, MD, Radiation Oncologist
Tina Mayer, MD, Medical Oncologist
Sabin Motwani, MD, Radiation Oncologist 
Wilbur Pan, MD, PhD, Pediatric Oncologist 
Kianoush Sheykholeslami, MD, PhD, FACS, Director of Head and Neck Surgery and Neurosurgeon
Rachana Tyagi, MD, Pediatric Neurosurgeon
Sue Schwartz, MSN, APN, OCN, Advanced Practice Nurse
Catherine Furnbach, RN, Staff Nurse
Doris Pindilli, MS, APRN, BC, AOCNP, Advanced Practice Nurse
Brenda Bly, MSW, LCSW, LCADC, Social Worker
Venkat Narra, PhD, Physicist
Sue Resavy, Radiation Therapist