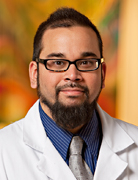 Shabbar Danish, MD
Chief, Section of Neurosurgical Oncology
Director, RWJ Gamma Knife Center
Director, RWJ Laser Ablation Treatment Center
Neurosurgeon
Since coming to Rutgers Robert Wood Johnson Medical School in 2008, I have been involved in re-designing the care of patients with brain and spine tumors in this region. As part of this process we recruited physicians with specific interests in neurologic malignancies and developed programs to ensure that the disease is maximally controlled. While surgery may be part of the process, our team includes medical neuro-oncologists, radiation oncologists, neurosurgeons, neuropyschologists, nurses, social workers, and other specialists -- all under one roof -- in order to provide patients with a comprehensive evaluation. Furthermore, access to the physicians is simplified and communication lines are always open.
I completed my undergraduate training at Rutgers University, and my medical degree at UMDNJ-Robert Wood Johnson Medical School. I obtained my neurosurgical training at the University of Pennsylvania, along with fellowship training in Stereotactic and Functional Neurosurgery as well as GammaKnife Radiosurgery. I have had a strong interest in minimally and noninvasive solutions to treat brain and spine cancer. I have research interests and publications in both fields.
I developed the Laser Ablation Program at this institution. This is a program where we use lasers carefully threaded through the brain in order to treat difficult to resect or inoperable brain tumors. We have a dedicated team for this program, and are the busiest program in the country for this technology. Much of what has been learned and developed has been accomplished at this institution.
I am also the director for the RWJ GammaKnife Center. We are the only PerfeXion unit in the region, and are the only facility in the state with IRSA accreditation. There is a team dedicated to this procedure that does nothing else. The GammaKnife is the only machine that was developed specifically for neoplasms and disorders of the brain.
I have authored dozens of peer-reviewed articles and several book chapters. We continue to design research programs and protocols to understand how to treat neurologic malignancies less invasively.
Clinical Expertise
Brain cancer, spine cancer, primary and secondary brain and spine tumors, advanced neurosurgery
Honors
Innovator of the Year Award, NJ Biz, 2012:  Development of the Center for Brain Tumor Laser Ablation
Innovator of the year Award, NJ Biz, 2011: Development of a Multidisciplinary Center for the treatment of Parkinson's disease
AANS Gildenburg Research Award in Stereotactic and Functional Neurosurgery, 2008