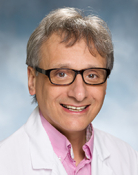 Roger Strair, MD, PhD
Chief, Blood Disorders
Medical Oncologist
Since coming to the Cancer Institute of New Jersey when it first opened its doors in 1993, I have overseen the growth of our Leukemia/Lymphoma/Hematologic Malignancies and Hematopoietic Stem Cell Transplant Programs.  With a clinical and translational research expertise in hematologic malignancies and related diseases, I work closely with colleagues across all disciplines at the Cancer Institute, other national and international institutions, and in our community to develop new treatments designed to improve the care of patients with acute or chronic leukemia, lymphoma, Hodgkin's disease, multiple myeloma, myelodysplasia or other blood/immune-related diseases.
Since completing a residency and fellowship in hematology/oncology at Brigham and Women's Hospital, Harvard University I have had a special research interest in the biology and treatment of blood and immune-related diseases. By having the resources available at a National Cancer Institute-designated Comprehensive Cancer Center, our team is able to translate these research findings and directly apply them to patient care. 
I am the author or co-author of more than 55 peer-reviewed publications and work closely as part of a basic, translational and clinical research team that has developed successfully a variety of new investigator-initiated treatment approaches currently being studied in clinical trials at the Cancer Institute.  I have also participated in educational and research activities of both the Leukemia and Lymphoma Society of America and the Lymphoma Research Foundation.
At the Cancer Institute of New Jersey, we believe that each patient should have the opportunity to learn as much as he or she wishes about the etiology, biology and natural history of his or her disease and about the rationale for the use of specific treatments. The opportunity to address these issues in layman's terms is always included in our patient visits.
Clinical Expertise
Hematologic malignancies, acute and chronic leukemia, lymphoma, Waldenstrom's macroglobulinemia, Hodgkin's disease, multiple myeloma, myelodysplasia and related diseases; blood cancers, hematopoietic stem cell (or bone marrow) transplantation
Honors
Top Docs, Inside Jersey
Top Doctors, NJ Savvy Living
New Jersey's Top Doctors, New Jersey Monthly
Top Doctors, New York Magazine