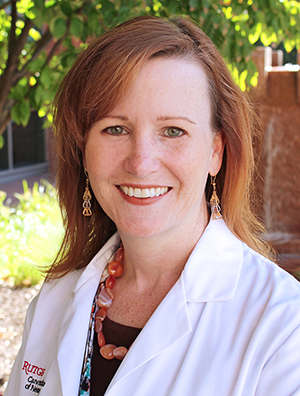 Dr. Pine is a Resident Member of Rutgers Cancer Institute of New Jersey, and Associate Professor of Medicine at Rutgers Robert Wood Johnson Medical School, Rutgers University. Prior to her arrival at Rutgers, she completed her post-doctoral training in Molecular Epidemiology and Molecular Biology with a specialty in lung cancer at the Laboratory of Human Carcinogenesis, National Cancer Institute, Center for Cancer Research in Bethesda, Maryland.  Dr. Pine received her PhD degree in Cancer Pathology at New York Medical College.
Dr. Pine is on the New Jersey leadership board for the American Lung Association, is on the Executive Council Committee and is a member of the MD/PhD Admissions Committee at Robert Wood Johnson Medical School. She serves on the Editorial Board of Carcinogenesis, Frontiers in Oncology, and Physiological Genomics. She has served as a grant reviewer for the National Institutes of Health, Department of Defense, The Netherlands Organization for Health Research and Development and the New Jersey Health Foundation.
Dr. Pine has authored or co-authored more than 40 peer-reviewed articles in journals including Nature Cell Biology, Journal of Clinical Oncology, Proceedings of the National Academy of Sciences, and Journal of the National Cancer Institute. She lectures regularly to medical and graduate students on cell signaling, lung cancer and precision medicine.
Dr. Pine is the recipient of several awards and honors including the Brigid Leventhal Award from the American Society of Clinical Oncology, CRTA Fellowship Award from the National Cancer Institute and the Richard C. Devereaux Outstanding Young Investigator Award in Lung Cancer from Prevent Cancer Foundation. She is the current or past recipient of numerous grants including the National Cancer Institute K22 Career Development Award, an R01, and grants from the Prevent Cancer Foundation and Lung Cancer Research Foundation.