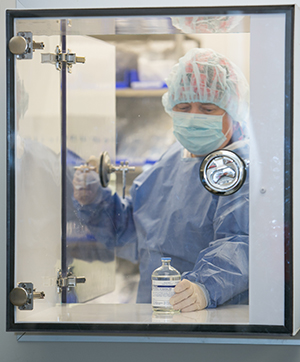 Preparation and Handling for All Investigational Agents 
The shared resource develops methods and manages the preparation and delivery of investigational agents.  Policies and procedures are in place that ensures (1) proper storage, handling, and dispensing of investigational agents according to protocol; (2) dose modifications (escalation or reductions) occur as described in the protocol; and (3) all federal and state regulatory requirements are met.  It also develops policies for the management of investigational/study agents used in Cancer Institute multicenter trials.  All policies and procedures are based on NCI guidelines and the recommendations of the Research Pharmacy Advisory Committee.  
Drug Accountability, Dosing, and Administration 
All protocols are reviewed by the shared resource before submission to the Institutional Review Board (IRB) to ensure that drug accountability, preparation, dosing, and administration are clearly defined.  This helps to minimize the risk of medication errors and protocol deviations.  Policies and procedures are in place in the shared resource to ensure drug accountability to supplying agencies.
Procurement
The shared resource works with principal investigators and sponsoring organizations to coordinate the procurement of investigational drugs.  Upon receipt of the investigational agent, all shipping documents are verified against materials received, lot numbers, and expiration dates. It also obtains, tracks, and supplies commercial agents for clinical trials and for laboratory use by Rutgers Cancer Institute members.
Storage and Security
All investigational agents are stored in the shared resource area, which is double-locked at all times, and is accessible only by licensed staff members.  There are adequate, room-temperature storage space, refrigeration, and freezers (one -30oC and two -86oC). Monitoring of these temperatures occurs every ten minutes and is documented with SmartVue™, a wireless remote temperature monitoring system with daily backup to the Rutgers Cancer Institute's server.  Additionally, the refrigerators and freezers are programmed to trigger an alarm with backup if the temperature is out of range for more than five minutes.
Dispensing 
The shared resource ensures that all investigational agents are used in accordance with FDA and NCI guidelines for investigational drug use. Research Pharmacists directly oversee the handling of investigational agents and ensure that preparation of agents is performed according to the respective protocol. The shared resource staff is responsible for verifying that study agents are dispensed only for patients on IRB-approved clinical trials, that the most up-to-date informed consent is signed by both the patient and an approved investigator, and that the patient is eligible and has been enrolled by Rutgers Cancer Institute of New Jersey's Office of Human Research Services (OHRS) via Oncore®. A chemotherapy order form, which includes the IRB protocol number, must be completed and signed by an approved investigator before dispensing any protocol therapy. This form is included within our EMR, and the shared resource staff in collaboration with OHRS develops order-entry for each protocol. All medication orders are cross-referenced to the protocol for verification of dosing and administration. Additionally, the staff verifies all dose modifications against the protocol after reviewing patient-specific laboratory data and other toxicity data. For all phase I trials, patient dose assignment is also verified by the shared resource against the dose assignment memorandum.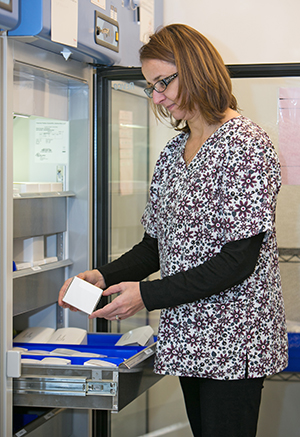 Drug Accountability 
Drug accountability is performed as outlined in the NCI Drug Accountability guidelines. All dispensed drugs are accounted for on NCI Drug Accountability Forms (DARFs). Verification of inventory for quality assurance is performed monthly, and each time an agent is dispensed by the Research Pharmacy staff. Monthly verification of inventory includes comparison of the quantity of investigational agents in stock compared to the quantity at the time of the last monthly verification, cross-checked with the amounts recorded on the DARFs. In addition, the monthly verification of inventory includes a check of lot numbers and expiration dates. Each time a drug is dispensed, there is a check of the expiration date and a cross-check of the patient registration list with the DARFs to verify that patient initials and study numbers match, and to ensure that all patients scheduled to receive an investigational drug are registered on the protocol. This system will be expanded in the near future to incorporate Vestigo® for drug accountability documentation.
Expert Consultation for Clinical Trial Development 
The shared resource provides expert consultation during the development of clinical trials. The staff focuses on the development of exclusion criteria for concomitant medications that may interact with the protocol agent, exclusion criteria and dose modifications for renal, pulmonary, liver or cardiac function based on the preclinical toxicity profile of a new agent for a phase I trial, and collaborate on the sequence of administration of protocol agents in the treatment plan. It also directs supportive care medications on investigator-initiated trials. In addition, the shared resource takes part in the weekly Phase I Group meetings and in protocol activation meetings to continuously and prospectively address these issues.
Drug Formulation 
The shared resource has the capacity to formulate and handle new agents including biologicals (e.g., Coxsackievirus A21, talimogene laherparepvec, PANVAC, fowlpox vaccines) and natural products (e.g., tocopherols). The shared resource staff works with OHRS and sponsoring regulatory agencies to achieve approval of new formulations.  It also works with institutional safety committees to make sure that each potentially hazardous compound or agent is handled and dispensed in compliance with Good Clinical Practice (GCP) and in concordance with all safety procedures for the agent.
Quality Assurance 
The shared resource is responsible for ensuring that all study agents are dispensed only for patients on IRB-approved clinical trials and only after the most recently IRB-approved consent form has been signed by both the patient and an approved investigator.  Staff also verifies that a signed and dated consent form is in the chart, re-verifies patient eligibility, and confirms with OHRS that the patient is enrolled onto a study before dispensing a protocol agent.  Additionally, a pharmacist obtains a comprehensive medication history from the patient to minimize the risk of adverse drug interactions.
All the IRB-approved investigator-initiated clinical trials are first translated into the EMR by the OHRS Clinical Trials Informatics Specialist and then all investigational agents are inputted by the Informatics Pharmacist and verified by the shared resource.  The shared resource also provides further quality assurance by verifying that the medication orders translated into the system conform to those specified in the protocol.
For randomized investigator-initiated clinical trials, the shared resource obtains the randomization schema from the Biometrics shared resource. It also performs the randomization and maintains the randomization codes for possible decoding in the event of a medical emergency.
Research Pharmacy Services for Multicenter Investigator-Initiated Clinical Trials
For network trials conducted at network institutions, the shared resource is responsible for inspecting the pharmacy at these sites and training their staff.  A shared resource pharmacist provides educational initiatives involving the pharmacy.  Patient enrollment is verified through OHRS via Oncore® and, if not available via Oncore®, a facsimile copy of the signed informed consent is forwarded to the shared resource.  Investigational agents managed by the shared resource are distributed to these network institutions as outlined in the resource's standard operating policies.  Rutgers Cancer Institute investigational agents dispensed at Robert Wood Johnson University Hospital (RWJUH) are also under the direction of the shared resource. RWJUH pharmacists are in-serviced for each trial on drug accountability by a shared resource Pharmacist. In addition, the Research Pharmacy shared resource performs monthly audits on all active studies involving investigational/study agents.
Last updated 05/14/2020