Home | Banking Group | Histopathology Service (HPS) | Equipment | Recent Enhancements | Request De-Identified Biospecimens | Inventory Dashboard
Histopathology Laboratory Director:  Marina Chekmareva, MD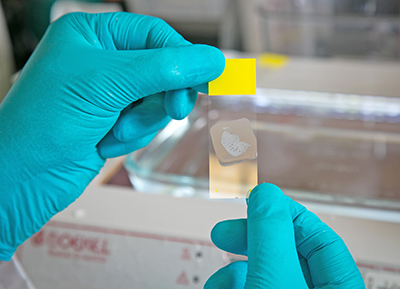 The Histopathology Service (HPS) provides histology technical assistance, Immunohistochemistry and Tissue Microarray (TMA) services to Rutgers Cancer Institute members. It is a CLIA certified (CLIA ID: 31D2123874), full-service, quick turnover lab comprised of a manager and two histotechnologists, providing quality slides and stains on diverse types of human and animal tissues. A spectrum of histologic techniques such as tissue processing and paraffin embedding, microtomy, fresh tissue snap freezing and cryotomy are available. Immunohistochemistry and immunofluorescent services are furnished to provide spatial and temporal location of proteins and their antigens at the cellular level.  The tissue microarray service allows Rutgers Cancer Institute investigators to analyze large numbers of specimens on one slide in an efficient manner. The human tissues used for microarrays are provided by the Banking Group or provided by the researcher. All TMA blocks are created in cooperation with the pathologist who reviews and designates the tissue areas of interest and reviews subsequent H&E's. The HPS works closely with the Banking Group and the Clinical Trial Lab. The HPS processes, cuts, and stains all human biospecimens furnished by the Banking Group.  In addition, they prepare slides for laser capture microdissection, which is performed in the Rutgers Cancer Institute's Advanced Microscopy Suite.
As patients are consented to clinical trials, their paraffin embedded tumor tissue is channeled to the histology lab. The HPS recently received CLIA licensure to provide IHC staining (CD44) for a clinical trial at Rutgers Cancer Institute. The antibody for this CLIA approved test undergoes extensive equipment validation and control tissue verification before use on patient material. By means of IHC, demonstration of CD44 protein expression qualifies a patient for specific clinical trial therapy. The HPS also provides a qualitative IHC PD-L1 therapeutic assay. PD-L1 Pharma IHC 22C3 and 28-8 clones detect PD-L1 proteins in cancer tissues, the intensity of which is determined by the pathologist. This increased expression correlates with a patient's eligibility for specific therapeutic immunotherapy.  This clinical trial IHC is an extensive, highly specialized process, governed by the New Jersey Bioanalytical Laboratory Director CLIA License under Chekmareva. This special certification is essential for the HPS to partner with clinical trial investigators, industry and pharmaceutical researchers.
The HPS refers researchers to pathologists for consultation and slide review. This is an important provision, as tissue morphology, diagnosis, and staining require expert eyes to review and years of medical experience to interpret. This elevates the data collection and analysis from histology and IHC work to a level acceptable for publication and grant submission.
HPS is a full-service, quick turnover lab, which provides quality slides and stains on diverse types of human tumor and benign tissues.
Services offered are: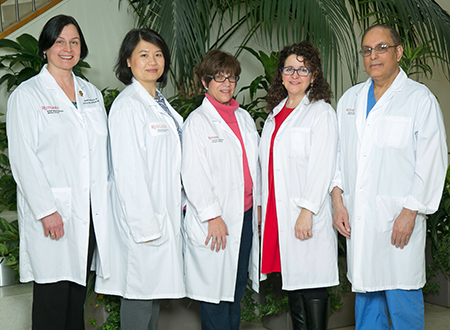 Processing and Embedding
Microtomy
Cryotomy
Routine and Special Staining
Immunohistochemistry Services
Immunofluorescent Services
Tissue Microarray
Pathologist Consultation Service
IHC Assay services for Clinical Trial Protocols and Patient Therapies
 
For additional information on services please contact:
Katie Dwyer,
Program Administrator,
dwyerka@cinj.rutgers.edu
Phone: 732-235-3511
Rutgers Cancer Institute
195 Little Albany Street
Rooms 2035 and 4517
New Brunswick, NJ 08903
Last updated 11/16/2021