Home | Clinical Trial Laboratory (CTL) | Banking Group | Histopathology Service (HPS) | Equipment | Recent Enhancements | Request De-Identified Biospecimens 
The Clinical Trial Laboratory (CTL) provides blood, body fluid, and tissue procurement for processing, storage, and nationwide distribution. Staff participates in clinical trial activation meetings, budget development, and technical instruction sheet completion to ensure seamless procedures for procurement, processing, storage, and distribution of biospecimens.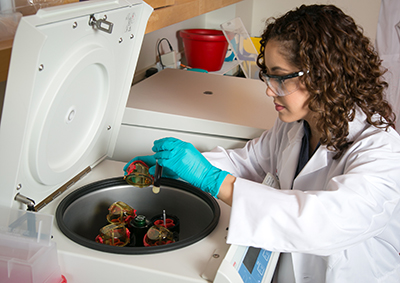 The Office of Human Research Services (OHRS) notifies the lab when a collection for a specific trial will occur. This coordination of communications is ongoing from the time of patient consent through specimen processing and distribution of aliquots to sponsors. Upon retrieval, the patient is verified to the protocol and the sample is entered into the OnCore® Biospecimen Module (BSM) for labeling and tracking. The blood end-products are processed and stored according to protocol temperature specifications. While these blood specimens are handled by the CTL (separations, PBMC), the Histopathology Lab provides block cutting and slide staining services. After handling and storage, skilled technologists meticulously ship specimens according to cooperative nationwide clinical trial protocols. All paperwork, including workflow sheets, instruction logs, and updated procedures are held for future reference.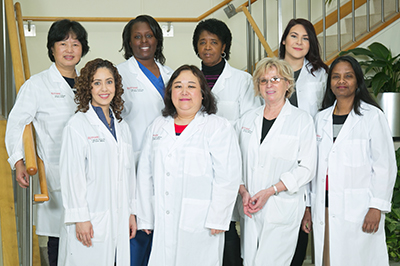 Pharmaceutical sponsors periodically audit the lab for accuracy of documentation and procedural precision. 
For additional information on services please contact:
Novlette Simmons
Clinical Trial Section Head
Phone: 732-235-8657
Rutgers Cancer Institute
195 Little Albany Street
Room 2031
New Brunswick, NJ 08903
Last updated 05/14/2020