Home | Banking Group | Histopathology Service (HPS) | Equipment | Recent Enhancements | Request De-Identified Biospecimens | Inventory Dashboard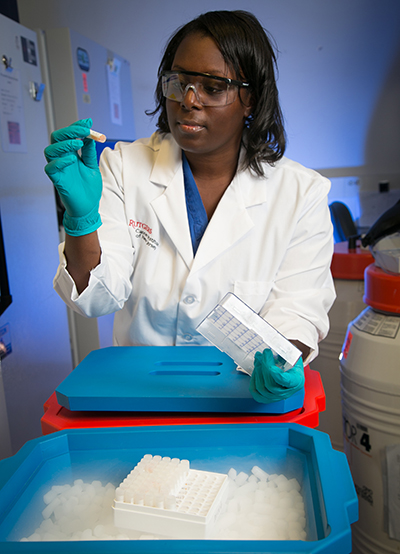 The Banking Group collects and archives clinically annotated and anonymized specimens. In addition, Pathologist Assistants gross the tissues and Consent Docents speak with patients about our research efforts. This service supports basic research and involves specimen procurement, accessioning, processing storage, and distribution via the following two protocols:
Clinically Annotated Biospecimen Repository (Protocol 001006)
Allows the prospective consent of patients for acquisition and distribution of their tissue and blood. Clinical information on these specimens is linked to a de-identified patient and distributed to investigators with proper approvals via the honest broker system. A protected link is maintained in the database and can only be accessed by designated Biorepository staff. This tissue and blood bank was designed in response to the growing needs of investigators to obtain clinical annotated biospecimens for basic research. This repository includes patients with blood and lymphatic cancers who are consented and their blood samples are processed using PBMC isolation.
 
Anonymized Biospecimen Repository (Protocol 009601)
The guidelines within this protocol allow the banking group to procure excess tissue specimens from Robert Wood Johnson University Hospital (RWJUH) Pathology grossing room. All patient information is anonymized leaving no prospect of tracing the specimen back to a patient. Tissues are defined by site of origin, tumor, and diagnosis and are made available to basic science researchers.
The Banking Group works with the Comprehensive Genomics shared resource to distribute specimens for genomic sequencing on behalf of CINJ investigators. The Biorepository also provides Comprehensive Genomics with biospecimens to assist in the development of their sequencing panels.
The Banking Group consist of the following staff members:
Research Coordinators (Consent Docents)
Pathologists' Assistants
Banking Laboratory Staff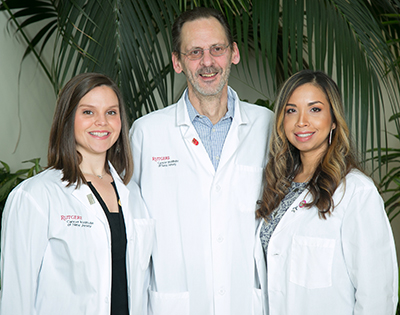 Research Coordinators (Consent Docents) are an integral part of educating patients who may want to contribute to cancer research.  They explain to potential donors the reasons why they should consider becoming research participants:
To help others (i.e. family and/or community members)
Feel like you are contributing to finding a cure for cancer and moving science forward
Research Coordinators also inform patients about our research banking initiatives in various ways:
At pre-surgery information classes
During doctor's appointments 
Through distribution of brochures that describe the importance of biospecimens in cancer research
Mail packets containing information about the ongoing research banking efforts at Rutgers Cancer Institute of New Jersey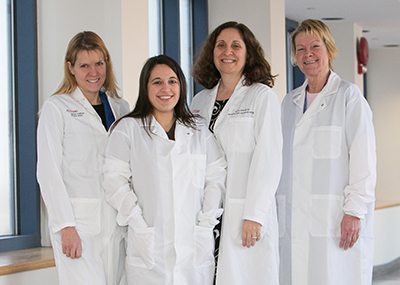 Pathologists' Assistants are intensely trained allied health professionals.  They are the "first responders" to surgical specimens; therefore provide a strong foundation for accurate diagnosis and quality research.
Pathologists' Assistants help enhance the shared resource services by:
Performing many of the tasks that were traditionally performed by pathologists
Facilitating and contributing to research with their expertise and attention to detail which ensures selection of quality biospecimens
Contributing to the overall efficiency of tissue collection
These highly skilled professionals ensure that quality specimens are provided to researchers for downstream analysis.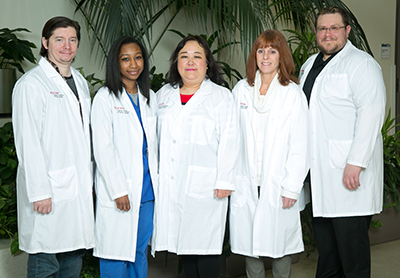 The Banking Laboratory Staff is responsible for fulfilling biospecimen requests from basic science researchers. They track surgeries from consented patients leading to procurement of solid tumors and blood biospecimens. Collection occurs at Rutgers Cancer Institute's treatment areas and Robert Wood Johnson University Hospital Pathology. All samples are de-identified, processed and stored in the Biorepository.
For additional information on services please contact:
Lei Cong 
Banking Section Head
Phone: 732-235-7315
Rutgers Cancer Institute
195 Little Albany Street
Room 2034 and 2050
New Brunswick, NJ 08903
Last updated 11/16/2021