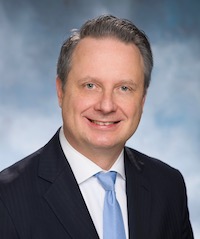 Dr. Andrew M. Evens is a physician-scientist at the Rutgers Cancer Institute of New Jersey, where he is Associate Director for Clinical Services; System Director of Medical Oncology and Oncology Lead for the Combined Medical Group with RWJBarnabas Health (RWJBH); and Associate Vice Chancellor for Clinical Innovation and Data Analytics, Rutgers Biomedical and Health Sciences (RBHS).  Dr. Evens completed a Hematology/Oncology fellowship at Northwestern University Feinberg School of Medicine and the Robert H. Lurie Comprehensive Cancer Center, where he was also Director of Translational Therapeutics. Prior to his Rutgers Cancer Institute appointment, Dr. Evens served as Chief of the Division of Hematology/Oncology at Tufts Medical Center and as Director of the Tufts Cancer Center in Boston, MA.
His research is focused on three areas with a concentration in the field of lymphoid malignancies: 1) Clinical investigation of novel therapeutic agents, including biomarker discovery and validation; 2) Clinical and translational prognostication, including systems biology analyses; and 3) Health outcomes, including pharmacovigilance, predictive and simulation modeling, artificial intelligence, and decision making. Over the past 20 years, he has been the principal investigator of >80 cancer clinical trials that have included phase I, II, and III studies, many of which have been multicenter investigator-initiated trials studying novel targeted agents.
Dr. Evens is a core member of the Hodgkin Lymphoma Working Group for the NCI Steering Committee, and an ad hoc member of additional clinical and scientific committees for the NIH, Cancer Therapy Evaluation Program (CTEP), and the Food and Drug Administration (FDA). He was an associate editor for the British Journal of Haematology for 8 years, and currently serves as the inaugural editor-in-chief of the gold open access journal, eJHaem. He is Vice-Chair of the Lymphoma Committee for the ECOG-ACRIN cancer research group; a member of the Board of Trustees for the Leukemia & Lymphoma Society (LLS) New Jersey Chapter; and a re-elected member to the North American Scientific Advisory Board for the Lymphoma Research Foundation; and he is involved in a multitude of regional, national, and international educational forums and outreach events.