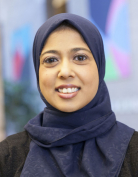 Razia B. Akhtar, MD
Pediatric Hematologist/Oncologist
Assistant Professor, Division of Pediatric Hematology/Oncology, Department of Pediatrics, Robert Wood Johnson Medical School
It is great to return to New Jersey and to be a part of the Rutgers Cancer Institute of New Jersey in the division of Pediatric Hematology/Oncology. 
Born and raised in New Jersey, I always wanted to be able to provide great medical care and support to my community. After completing my Pediatric Residency at Atlantic Health/Goryeb Children's Hospital, I went on to complete my subspecialty training and ultimately joined the faculty in Pediatric Hematology/Oncology at the Golisano Children's Hospital in Rochester, NY. I came to the Kravis Children's Hospital at Mount Sinai in New York as Director of Pediatric Neuro-Oncology and helped build the clinical brain tumor program. I also acted as Site Principal Investigator of the North American Consortium for Histiocytosis (NACHO) trials for Langerhans Cell Histiocytosis at Mount Sinai. 
In order to provide the best care, I have always maintained a multi-disciplinary team approach amongst all those involved in the child's care, including child life, social work, nurses, pharmacists, physician specialists, and most importantly, the parents. My clinical duties include coverage of general Pediatric Hematology and Oncology patients in the inpatient and outpatient services, with my primary patient responsibilities involving children with brain and central nervous system tumors. I am glad to be a member of the Neuro-Oncology Program, and I will continue to uphold the high values set by the Rutgers Cancer Institute of New Jersey.
Clinical Expertise
General Pediatric Oncology/Hematology; Pediatric Brain Tumors/Neuro-Oncology; Palliative Care