An Update for Providers
COOPER'S CORNER
 
Meet Dennis L. Cooper, MD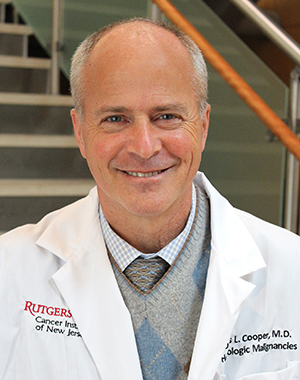 Dr. Cooper is the co-director of the Blood and Marrow Transplantation Program at Rutgers Cancer Institute, and a professor of medicine at Rutgers Robert Wood Johnson Medical School. Along with caring for patients undergoing autologous and allogeneic transplants, Dr. Cooper's major areas of clinical expertise are multiple myeloma, Hodgkin lymphoma, and non-Hodgkin lymphoma. Contact Dennis Cooper, MD, via email or call 732-235-8945.
Blog: Update on Checkpoint Inhibitors
Checkpoint inhibitors (CI) have made a major impact in a number of solid tumors and are currently FDA approved in SCCHN, NSCLC, melanoma, bladder and renal cell carcinoma. However, the malignancy with the strongest rationale (and recent FDA approval) for treatment may be Hodgkin lymphoma as the characteristic chromosome 9p abnormalities results in over-expression of PDL1 and PDL2 in virtually 100% of Reed-Sternberg tumor cells, a much higher percentage than in any other tumor. Thus, the high response rates of 65-87% in primarily heavily treated patients are also not completely unexpected based on the CI mechanism of action. Interestingly, while most of these responses are partial, even these have been durable with few of the patients progressing after achieving a PR. 
In view of the relatively low and non-overlapping toxicity profile, the CI are now being tested in combination with brentuximab at multiple centers including CINJ in patients who have relapsed or failed to achieve a CR with primary therapy. Preliminary results reported at ASH from a small number of patients have shown that there have not been any unexpected toxicities and essentially all patients have responded with about half achieving CR.  It seems likely that in the future the CI will play a greater role in getting patients to autologous transplant and may pose an alternative to allogeneic transplant in patients who relapse after autologous transplant. 

Clinical Trial Spotlight
Primary Objectives:
To determine the effect genomic mutations have on treatment recommendations and medical decision making with respect to allogeneic stem cell transplantation in CR1 in patients with intermediate risk AML.
To integrate novel mutation analysis, CD25 expression, minimal residual disease (MRD) analysis and clinical factors into an allogeneic transplantation medical-decision making model that refines risk assessment by using commercially available detailed genetic analysis.
For more information about this trial, call 732-235-8675. View all hematologic cancer clinical trials
Rutgers Cancer Institute is offering a variety of clinical trials that focus on genomic analysis and precision medicine efforts, including treatment for rare and poor prognosis cancers and more common malignancies. Learn more
 
Immunotherapy Clinical Trial Targeting Leukemia/Lymphoma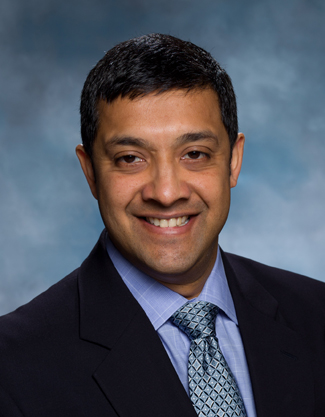 Rutgers Cancer Institute is one of a few East Coast sites to offer a clinical trial investigating an experimental drug known as REGN1979 in the treatment of non-Hodgkin's lymphoma (NHL) and chronic lymphocytic leukemia (CLL). The drug – designed to use the body's own defenses to fight illness – targets  a specific protein (called CD20) found in these particular types of cancer and targets another protein (called CD3) found on T-cells, a type of cell in the immune system. REGN1979 is designed to help T cells find and destroy B cells, including those cancerous B cells found in NHL and CLL. The goal is to determine how much of the drug can be given safely to patients who have the CD20 protein on their lymphoma or CLL cells.  "By harnessing the body's own natural defenses, there is an opportunity to provide alternate therapies for patients with NHL and CLL whose disease has stopped responding to standard treatments," notes Rajat Bannerji, MD, PhD, medical oncologist and principal investigator of the trial. Learn more
Journal Article Review
Methylated SFRP1,2 and CD25 Expression in Acute Myeloid Leukemia Play an Important Role in the Pathogenesis of the Disease and in Turn in its Treatment

Abstract
Recently, hyperactivation of the Wnt signaling pathway has been implicated in leukomogenesis, so we studied the epigenetic dysfunction of SFRP1,2 and expression of interleukin2 receptor α chain (IL2Rα, also known as CD25) and its prognostic impact in acute myeloblastic leukemia (AML). Methods: We studied the methylation profile of SFRP1,2 in AML cells by methylation-specific polymerase chain reaction (MSP) and the hyper expression of IL2Rα (CD25) by flowcytometry. Results: We analyzed the methylation profile of SFRP1,2 in 40 de novo AML patients. The percentage of hypermethylation in the patient samples were 37.5% for SFRP1, 12.5% for SFRP2. CD25 was positive in 12(30%) of 40 patients AML. We found that in patients whom 60 years and younger with intermediate risk cytogenetics in de novo AML, hypermethylation of SFRP1 and CD25 were accompanied with relapse (P=0.024). Conclusion: Our data indicates that in a subgroup of AML patients, hypermethylation of SFRP1 and high expression of CD25 predict relapse. Read more  
 
FROM THE TRANSPLANT COORDINATORS

Photo of coordinators

Information on patient care, summary of recent studies and/or other resources for blood and marrow transplant patients.
Support Group for Bone Marrow Transplant Recipients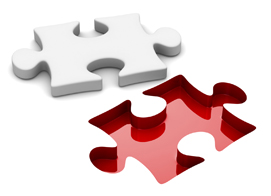 A new support group has been formed for specifically for bone marrow recipients and their families. The group meets twice monthly at Rutgers Cancer Institute and is open to patients in the region. Contact Lauren Kriegel, MSW, LSW, at 732-235-8522 for more information.   
Elrahman MZA, Nigm DA, Elfadle AA (2016) Methylated SFRP1,2 and CD25 Expression in Acute Myeloid Leukemia Play an Important Role in the Pathogenesis of the Disease and in Turn in its Treatment. J Leuk 4:219. doi: 10.4172/2329-6917.1000219

Coming Soon! New Clinical Space in East Tower
Scheduled to open in the late spring 2017, this new clinical space will house Rutgers Cancer Institute's Blood and Marrow Transplant Program and Hematologic Malignancies Programs as well as the Rutgers Cancer Institute and RWJBarnabas Health's seven-day-a-week infusion area. The facility is located across the street from the main facility in the Robert Wood Johnson University Hospital East Tower building. 
---