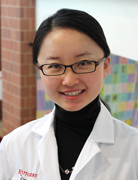 Nancy Chan, MD
I am thrilled to have joined Rutgers Cancer Institute of New Jersey to take care of breast cancer patients with such a dedicated team of colleagues.
I attended the Sophie Davis School of Biomedical Education in New York City, which is a 7-year fast-track honors program combining bachelors of science and a doctor of medicine. My interest in research began during my time at Sophie Davis, and I was awarded the Rudin Research Fellowship and the Sophie and Leonard Davis scholarship for academic excellence. I received my medical degree from Stony Brook School of Medicine in 2008 and was inducted to the Gold Foundation Humanism Honor Society. I then completed residency in internal medicine at UMDNJ-Robert Wood Johnson. It was here at the Cancer Institute of New Jersey that my mentors helped to cultivate my interests in caring for patients with cancer.
I went on to complete a fellowship in medical oncology and hematology at New York Presbyterian Weill Cornell Medical Center, where I concentrated on breast cancer research. I developed an interest in reducing the risk of relapse in high-risk breast cancer patients, and studying the roles of bone marrow derived progenitor cells and the angiogenic switch in metastatic disease. I worked closely with both the clinical and translational teams to elucidate the many steps still unknown in breast tumor biology.
I am deeply committed to bringing comprehensive and cutting-edge therapy to all my patients. I am experienced in utilizing both conventional as well as investigational treatments through clinical trials. I am currently a member of the Phase I clinical trials team at the Cancer Institute which is a rewarding experience. We develop personalized treatment plans and build strong relationships with our patients and their families. I am a steadfast believer that our patients do best when treatments are individualized and delivered in a compassionate and supportive environment. All these key components and beyond are here at the Stacy Goldstein Breast Cancer Center, and I hope to continue this legacy.   
Clinical Expertise
Breast cancer, Phase I clinical trials