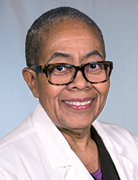 Margarette Bryan, MD
Medical Oncologist and Hematologist
Rutgers Cancer Institute of New Jersey at University Hospital
As a hematologist and medical oncologist at Rutgers Cancer Institute of New Jersey at University Hospital and a Clinical Associate Professor of Medicine at Rutgers New Jersey Medical School I am committed to providing my patients with the highest quality of care and am passionate about providing academic medicine in a community setting.  My approach to patient care through-out my thirty year career has been focused on providing each patient with a comprehensive evaluation and taking the time to educate them about their disease and the suggested treatment options so that together we can conquer their disease.
Prior to my fellowship at the University of Medicine and Dentistry of New Jersey – New Jersey Medical School, I completed my residency and internship at Howard University/DC General Hospital in Washington, DC. I completed my medical school education at the University of West Indies in Jamaica.
I am a member of the American College of Physicians, the American Society of Clinical Oncology, American Society of Hematology, and the Breast Cancer International Research Group.
Clinical Expertise
Breast cancer, head and neck cancers, hematology, and clinical trials
Contact Information
For appointments at Rutgers Cancer Institute of New Jersey at University Hospital, please call 973-972-5108.
For all other inquiries call 732-235-2465.