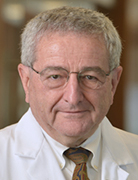 Joseph Aisner, MD
Co-Director, Thoracic Oncology Program
Medical Oncologist
I have been in oncology practice for over 40 years, the last 20 of which have been at Rutgers Cancer Institute of New Jersey.
Since even before my training as a fellow at the National Cancer Institute, which was preceded by a residency at Georgetown University Hospital, I have had a strong interest in oncology.  My long-standing research has focused on clinical trials and the application of evidence based medical practice. 
I am the author or co-author of more than 600 publications and serve on the editorial board of multiple journals.  I am a Fellow of the American College of Physicians (FACP) and the American Society of Clinical Oncology (FASCO) and belong to several professional societies in which I have held offices.  I also serve on the Executive Committee of the Eastern Cooperative Oncology Group (ECOG) and chair multiple Data Safety Monitoring Committees.
Clinical Expertise
Lung cancer, thoracic tumors, endocrine cancers, thyroid cancer, rare tumors, mesothelioma, cancer supportive care, new drug development and applications, and clinical trials
Honors
Top Docs, New Jersey Magazine, 2001 - 2012
Top Doctors, NJ Savvy Living Magazine, 2011- 2012
Top Doc, New York Magazine, 2001 – 2012
Sir William Osler Award, American Lung Association - New Jersey, 2008
Senior ASCO Statesman, 2009
Dean's Faculty Mentoring Award, 2010