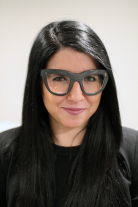 Jenna Marcus, MD
My profession is as a physician, but patients are my passion.  I am thrilled to be part of a team of gynecologic oncologists seeing patients at Rutgers New Jersey Medical School in Newark.  I am an Assistant Professor in the division and also the Director of Robotic Surgery for the department.
Prior to joining Rutgers, I completed a fellowship in Gynecologic Oncology at Montefiore Medical Center in the Bronx following the completion of my residency in Obstetrics and Gynecology at NYU Medical Center in New York.  I completed my medical degree from Wayne State University School of Medicine in Detroit.
I treat and care for women with gynecologic cancers including cancers of the ovary, uterus, cervix, vulva, vagina and those with gestational trophoblastic disease.  I also evaluate and treat patients with an increased genetic predisposition to cancer as well as patients with pelvic masses or those requiring complex pelvic surgery.   I am an expert in the field of minimally invasive and robotic surgical procedures for the treatment of gynecologic malignancies.  I also specialize in extensive surgical cytoreductive procedures for advanced cancers. 
I believe in advancing our field through clinical trials and am the principal investigator and lead co-investigator of several national studies offering novel therapies for ovarian and cervical cancers. A focus of my personal research is in the field of rare uterine tumors as well as disparity research.
Currently I serve on the board of several national committees within the field including, the Society of Gynecologic Oncology and American Society for Colposcopy and Cervical Pathology.
Clinical Expertise
Ovarian cancer; cervical cancer; vulva cancer, endometrial cancer; uterine cancer; minimally invasive surgical techniques; robotic surgery; and clinical trials
Contact Information
To schedule an appointment with Dr. Marcus please call 973-972-2714.
For all other inquiries about Rutgers Cancer Institute of New Jersey please call 732-235-2465.