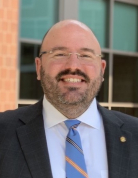 Eric A. Singer, MD, MA, MS, FACS
Associate Chief of Urology
Director, Kidney Cancer Program
Rutgers Cancer Institute of New Jersey
Associate Professor of Surgery and Radiology
I am a urologic surgeon with expertise in the management of genitourinary malignancies and a special interest in using robotic and minimally invasive surgery to treat cancers of the kidney, prostate, bladder and adrenal glands.  My goal is to educate and empower my patients so that they can choose the best treatment option available, whether it is surgery, active surveillance, radiation, systemic therapy, or a clinical trial.  To that end, I work closely with my Medical Oncology and Radiation Oncology colleagues in order to offer patients an effective, individualized, and comprehensive cancer treatment plan that minimizes side effects and maximizes quality-of-life.
I joined the faculty of the Cancer Institute of New Jersey in 2012 after completing a clinical and research fellowship in the Urologic Oncology Branch of the National Cancer Institute (NCI).  I received my medical degree (MD) with Honors in Research from Georgetown University along with a master's degree (MA) in bioethics.  I performed my general surgery and urologic surgery training at the University of Rochester Medical Center where I also did a fellowship in clinical ethics.  I have completed certificates in Clinical Research from the National Institutes of Health and the Harvard TH Chan School of Public Health and a master's degree (MS) in clinical and translational science from Rutgers University.  As a native of New Jersey, it is an honor to join our state's only NCI-designated Comprehensive Cancer Center.
At the Cancer Institute, I am Director of the Kidney Cancer Program within the Section of Urologic Oncology.  I am also a member of the Prostate Cancer Program, Clinical Investigations & Precision Therapeutics Program, Center for Minimally Invasive Surgery, and the Center for Biomedical Imaging & Informatics.  My research is focused on the development of new treatments for patients with genitourinary malignancies through clinical trials.  I am involved with cooperative group, investigator-initiated, and industry-sponsored trials.  At the Rutgers Robert Wood Johnson Medical School I am Director of the Distinction in Bioethics Program.
I have authored or co-authored more than one hundred published manuscripts and book chapters and have been invited to present my work at local, regional, national, and international meetings.  I am on the editorial board of Urologic Oncology, Annals of Translational Medicine, Disease Markers, Translational Cancer Research, and the Journal of Hospital Ethics. Additionally, I serve as a reviewer for dozens of journals including the Journal of Clinical Oncology, Journal of Urology, European Urology, Cancer, Urology, Journal of Oncology Practice, and the Journal of the American College of Surgeons.
My professional memberships include the American Urological Association, Society of Urologic Oncology, American Society of Clinical Oncology, American College of Surgeons, Eastern Cooperative Oncology Group, and the American Society for Bioethics and Humanities.
I look forward to helping you or your loved one through this challenging time.  Please review the information below to learn more about me, our Urologic Oncology team, and the cutting-edge work being done at the Rutgers Cancer Institute of New Jersey.
Clinical Expertise
Robotic surgery; Open surgery; Endoscopic surgery; Kidney cancer: partial nephrectomy, surgery for bilateral or multifocal tumors, familial renal cancer syndromes, surgery for kidney cancer recurrence, cytoreductive nephrectomy for advanced/metastatic kidney cancer, retroperitoneal sarcoma; Prostate cancer: nerve-sparing prostatectomy, surgery for high-risk disease, salvage surgery after radiation failure, active surveillance for low-risk disease, brachytherapy; Bladder cancer: bladder-sparing treatments, radical cystectomy, partial cystectomy; Adrenal cancer: partial or total adrenalectomy; Clinical trials; Bioethics
Honors
Dr. Irwin Frank Lectureship, Department of Urology, University of Rochester Medical Center, 2019
Richard E. Greenberg, MD, FACS Honorary Lecturer, Division of Urologic Oncology, Fox Chase Cancer Center, 2019
Excellence in Minimally Invasive Operative Teaching Award, Division of Urology, Rutgers Robert Wood Johnson Medical School, 2019
Mentorship Award, Division of Urology, Rutgers Robert Wood Johnson Medical School, 2019
Rutgers Leadership Academy, 2019
Mentorship Award, Division of Urology, Rutgers Robert Wood Johnson Medical School, 2018
Gold Cystoscope Award nominee, New York Section of the American Urological Association, 2018
Research Mentorship Award, Division of Urology, Rutgers Robert Wood Johnson Medical School, 2017
Mentorship Award, Division of Urology, Rutgers Robert Wood Johnson Medical School, 2016
Residents Committee Teaching Award, Rutgers Robert Wood Johnson Medical School Nominee, American Urological Association, 2015
Certificate in Clinical Research with Commendation, National Institutes of Health, 2012
Resident Achievement Award, Society of Laparoendoscopic Surgeons, 2009
Academy of Medicine Library Award for Ethics, Rochester Academy of Medicine, 2008
Gerald P. Murphy Scholar, American Urological Association, 2007
Academy of Medicine Library Award for Ethics, Rochester Academy of Medicine, 2005
William C. Maxted Award for Outstanding Performance in Urology, Georgetown University School of Medicine, 2003