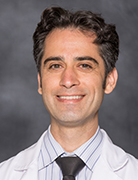 Basil Hubbi, MD
Radiologist
Rutgers Cancer Institute of New Jersey at University Hospital
As Director of Breast Imaging and Intervention at Rutgers Cancer Institute of New Jersey at University Hospital and an Assistant Professor of Radiology at Rutgers New Jersey Medical School, I advocate for early detection of breast cancer to improve morbidity and mortality. I am conversational in Spanish and Portuguese and utilize this skill on a daily basis to effectively communicate with my patients, as well as to perform periodic community outreach to our large local Latin American population.
My research interests include radiologic pathologic correlation of breast tumors as well as effectiveness of community outreach screening mammography efforts in reducing advance stage diagnosis of breast cancer in an under-served inner city population. I am fortunate to practice in an academic medical center which allows me to focus on evidenced-based approaches to patient care. I completed my medical school education and residency at Rutgers New Jersey Medical School and interned at Lenox Hill Hospital in New York.
I am a member of the Radiological Society of North America, the American College of Radiology, the American Roentgen Ray Society, and the Society of Breast Imaging. 
Clinical Expertise
Breast cancer, breast imaging, image guided breast procedures, body imaging, CT, fluoroscopy, MRI, mammography, and ultrasound
Contact Information
For appointments at Rutgers Cancer Institute of New Jersey at University Hospital, please call 973-972-5108.
For all other inquiries call 732-235-2465.