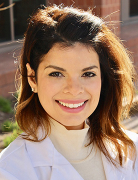 Athena Kritharis, MD
I am honored to join Rutgers Cancer Institute of New Jersey and return to my original home state of New Jersey. I feel that there is no better place for patients than at a NCI-designated Comprehensive Cancer Center such as Rutgers Cancer Institute where the highest of clinical and academic standards are practiced on a daily basis.
My education and training started at New York University (NYU) where I graduated magna cum laude with honors in chemistry. I was a presidential honors scholar and recipient of a dean's undergraduate research grant. I went on to receive my medical degree from NYU School of Medicine. After graduating from NYU, I completed internal medicine residency training at Hofstra Northwell School of Medicine, where I was chosen to serve an additional year as Chief Resident. I completed my hematology-oncology fellowship at Tufts Medical Center in Boston, Massachusetts where I was selected as Chief Fellow. 
I subsequently joined the faculty of Massachusetts General Hospital in the division of hematology at Harvard Medical School in Boston before returning to New Jersey and joining the Hematologic Malignancies Program at Rutgers Cancer Institute. Throughout my career, I have been active in the design and execution of cancer clinical trials and quality improvement projects. I have presented at national and international conferences and published multiple peer-reviewed journal articles and book chapters in the field of hematology. 
My practice focuses on diseases of the bone marrow such as myelodysplasia and myeloproliferative neoplasms (e.g., CML, polycythemia vera, myelofibrosis). I am committed to delivering excellent cancer care- by educating my patients on their disease and providing a comprehensive evaluation with the various resources and treatments that we have available. This includes a multidisciplinary team of radiation oncologists, pathologists, surgical oncologists, radiologists, oncology nurse practitioners, pharmacists and social workers, as well as clinical trials and a specialized laboratory. We have an exceptional team of compassionate and skilled physicians at Rutgers Cancer Institute and I am eager to help my patients achieve the best possible outcomes.
Clinical Expertise
Myelodysplasia, Myeloproliferative neoplasms (e.g., Essential Thrombocythemia, Chronic myeloid leukemia (CML), Polycythemia vera (PV), Primary myelofibrosis (PMF), Chronic eosinophilic leukemia, Mastocytosis, Hypereosinophilic syndrome), HHT
Honors
Julia Zelmanovich Alumni Award, NYU School of Medicine 2018
Selected Awardee, ECOG Young Investigator 2014
Abstract Achievement Award, American Society of Hematology 2014
Lawrence Scherr, MD Scholarly Activity Award, NSLIJHS Research 2011
Medicine Clerkship Award, NYU School of Medicine 2008
Presidential Honors Scholar, NYU 2001-2005
Phi Lambda Upsilon, Honorary Chemistry Society 2005
President's Service Award for Programming; Leadership and Volunteerism, NYU 2003, 2005