Research Overview
Prostate cancer is the most common non-cutaneous cancer diagnosed among men and the second leading cause of male cancer death in the United States. In 2018, it is estimated that 29,430 men will die from prostate cancer. Although radiation and surgery are quite effective for localized disease, approximately 30% of men diagnosed with prostate cancer will experience disease recurrence following definitive therapy. More importantly, there is no definitive cure for men who present with metastatic prostate cancer, who have an estimated 5-year survival rate of only 29% according to data from the National Cancer Institute's Surveillance, Epidemiology, and End Results Program. In patients with metastatic disease, medical (ie, androgen deprivation therapy) or surgical castration is generally the accepted first-line therapy. Yet castration-resistant prostate cancer eventually emerges, limiting life expectancy despite treatment with secondary hormonal agents, such as enzalutamide and abiraterone, targeted to the androgen receptor, as well as immunotherapy and chemotherapy.  
Dr. Kim's laboratory research interests are characterized by studies with near to mid-term translational potential. These studies focus on uncovering molecular mechanisms that govern sensitivity and resistance to anti-androgen therapy in prostate cancer and renal cell carcinoma. Over the past few years, the Kim Laboratory has investigated the role of androgens and anti-androgen therapy in the growth of renal cell carcinoma, the role of Wnt5a and bone-morphogenetic protein-6 (BMP-6) signaling in the development of castration-resistant prostate cancer and, most recently, the potential role of specific neuroendocrine mediators as markers of resistance to the nonsteroidal antiandrogen, enzalutamide, in prostate cancer. 
Dr. Kim and colleagues have shown that increased androgen receptor mRNA expression is associated with poor prognosis in patients with localized renal cell carcinoma (RCC). In addition, results of recent preclinical studies involving androgen receptor-positive RCC have provided support for both androgen biosynthesis in RCC as well as the potential benefits of therapies targeted to androgen signaling pathways in this form of the disease. In the setting of prostate cancer, the Kim Laboratory has provided evidence that release of Wnt5a, a signaling glycoprotein, from bone stroma modulates androgen sensitivity in the context of prostate cancer by triggering expression of BMP-6 and cytokine ligand 2 (CCL2) in androgen-sensitive prostate cancer cells, resulting in the development of castration resistance and enhancement of bone-tumor interactions through macrophage recruitment and regulation. Illustrated in the figure below are features of the proposed mechanism by which release of Wnt5a, as mediated by bone-tumor interactions, may facilitate castration resistance in prostate cancer.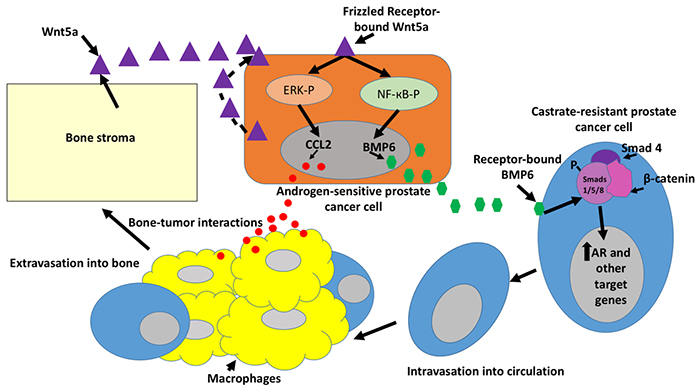 Regarding investigations of possible neuroendocrine markers of resistance to enzalutamide in prostate cancer, Dr Kim was recently awarded $954,000 from the U.S. Department of Defense to pursue these studies.