Research Overview
Our research program is focused on elucidating the mechanisms of oncogenic signaling and therapeutic response in human breast and ovarian cancers. Leveraging a multi-disciplinary approach spanning cancer biology, molecular biology, genomics, genetics, proteomics, bioinformatics, and statistics allows us to identify relevant genomic alterations in human tumors and then experimentally investigate the mechanisms by which these alterations affect given tumor phenotypes.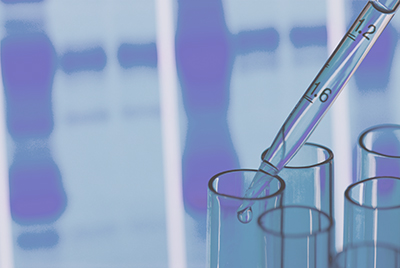 To address these questions, we use a number of experimental approaches including RNA sequencing (RNAseq), gene expression microarrays, whole exome DNA sequencing, DNA copy number analysis, proteomics, cell / tissue culture, and xenograft mouse models. Thus our research utilizes a combination of genomics and computational strategies to interrogate data from human patient samples coupled with experimental genetic models to replicate human tumor alterations in order to investigate mechanisms of disease both in vitro and in vivo.
Focusing on alterations that represent genetic vulnerabilities in human tumors, we partner with clinical faculty within Rutgers Cancer Institute of New Jersey to use this information to develop novel therapeutic strategies and treatments that are specific for each tumor subtype, and for each patient. By integrating genomics and experimental biology, we are able to identify and elucidate mechanisms of cancer genesis as a means to further understand tumor biology and to develop personalized cancer therapies.