Shore Medical Center Announces Affiliation with The Cancer Institute of New Jersey (CINJ)
Shore's Cancer Center Becomes the 16th member of the CINJ Network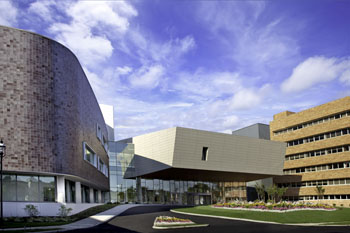 Somers Point, NJ – Shore Medical Center is pleased to announce it has entered into an affiliation agreement with The Cancer Institute of New Jersey - the state's only National Cancer Institute-designated Comprehensive Cancer Center. Shore and its nationally-recognized Cancer Center become the 16th member of the CINJ Network and the first in Atlantic County to provide patients facing a cancer diagnosis with access to The Cancer Institute of New Jersey's state-of-the-art clinical and research capabilities.
As an affiliate, Shore Medical is able to offer its patients enrollment in Cancer Institute of New Jersey clinical trials while having them receive care and treatment locally at the Somers Point facility. Shore's patients also will receive access to community education, outreach and other services provided by The Cancer Institute of New Jersey that complement the medical center's comprehensive cancer program.
"Shore is proud to become an affiliate of The Cancer Institute of New Jersey," said Shore President and CEO Ron Johnson. "This groundbreaking organization has a demonstrated history of clinical and research excellence, so members of our community can feel confident that they are receiving the very best in cancer care. This partnership represents the natural evolution of Shore as the premier cancer care provider in southern New Jersey."
"The Cancer Institute of New Jersey is proud to welcome Shore Medical Center into our statewide network of hospitals that provides patients access to the very latest clinical trials and cancer care right in their own communities," said Cancer Institute of New Jersey Director Robert S. DiPaola, M.D. "Shore's Cancer Center has distinguished itself as a leader in providing exceptional cancer care, and we look forward to working closely with the Shore team in delivering cutting-edge therapies to patients in southern New Jersey and beyond." 
One third of all newly diagnosed cancer patients in New Jersey choose The Cancer Institute of New Jersey or one of its affiliate hospitals for treatment.
"Through this affiliation with the state's National Cancer Institute-designated Comprehensive Cancer Center, I am pleased that we are expanding our exceptional cancer resources to the southern part of our state," said New Jersey Health Commissioner Mary E. O'Dowd, M.P.H. "By pairing Shore's cancer program with The Cancer Institute of New Jersey's vast clinical and research capabilities, residents in this region will now have access to a wider array of cancer care resources."
As one of Shore Medical Center's six Centers of Excellence, the Cancer Center's state-of-the-art radiation and medical oncology programs, under the respective direction of Dr. Vasthi Wilson and Dr. Julianne W. Childs, enable patients to receive all of their care and treatment under one roof. Since 1987, the Cancer Center has been recognized by the American College of Surgeons Commission on Cancer for meeting that organization's stringent standards for patient care.
The Cancer Center at Shore Medical Center was conceived, designed and built specifically to support the special needs of cancer patients, their families and friends. It represents the new face of 21st century cancer care, featuring a comprehensive approach combining exceptional clinical treatment with patient comfort and convenience. A highlight of the Cancer Center's multi-disciplinary approach to patient care is the weekly roundtable sessions which bring together surgeons, oncologists, radiologists, nurses and nurse navigators to determine a patient's best treatment plan.
In July of 2012, the Cancer Center introduced the Advanced Pulmonary Diagnostic Center. Under the direction of leading pulmonologist Dr. Bennett Ojserkis, it is the first center in southern New Jersey to address the growing number of patients being diagnosed with lung nodules and abnormal findings in the chest. The center offers a one-stop approach to providing patients with a fast, convenient, comprehensive and minimally invasive way to have their nodules evaluated and monitored by the region's most passionate and highly skilled pulmonary team.
"As the Cancer Center grows, we are committed to exploring every avenue in order to provide the best possible care for our patients and their families," said Cancer Program Administrative Director Donna Cericola, B.S.N., R.N., O.C.N. "In The Cancer Institute of New Jersey, we have found a partner perfectly aligned with our patient-centered philosophy, and are excited about the future of cancer care in our region."
The affiliation became effective late last month.
About Shore Medical Center
At Shore Medical Center, kindness complements an extraordinary level of clinical sophistication. Our people are the foundation of this modern medical center where advanced technology harmonizes with compassionate care. Shore Medical Center attracts the area's best physicians, nurses and clinicians. It is also the most favored among these professionals for their own personal healthcare needs. Shore Medical Center is home to six Centers of Excellence for Cancer, Cardiovascular, Neurosciences, Spine and Orthopedic, Emergency and Maternity and Pediatric care. Our passion drove us to develop affiliations with Penn Medicine, the Cancer Institute of New Jersey, Onsite Neonatal Partners and Advanced Radiology Solutions, become a member of The Jefferson Neuroscience Network and have physicians on staff from the Rothman Institute. Shore opened its Pediatric Care Center, the first of its kind in New Jersey, in July of 2011 and its state-of-the-art Surgical Pavilion and Campus Expansion in September of 2011. The Shore Medical Center Foundation creates and implements dynamic philanthropic programs that support the mission of Shore Medical Center.
About The Cancer Institute of New Jersey
The Cancer Institute of New Jersey (www.cinj.org) is the state's first and only National Cancer Institute-designated Comprehensive Cancer Center dedicated to improving the detection, treatment and care of patients with cancer, and serving as an education resource for cancer prevention. Physician-scientists at The Cancer Institute of New Jersey engage in translational research, transforming their laboratory discoveries into clinical practice, quite literally bringing research to life. The Cancer Institute of New Jersey is a Center of Excellence of the University of Medicine and Dentistry of New Jersey-Robert Wood Johnson Medical School.
The Cancer Institute of New Jersey Network is comprised of hospitals throughout the state and provides the highest quality cancer care and rapid dissemination of important discoveries into the community. Flagship Hospital: Robert Wood Johnson University Hospital. System Partner: Meridian Health (Jersey Shore University Medical Center, Ocean Medical Center, Riverview Medical Center, Southern Ocean Medical Center, and Bayshore Community Hospital). Major Clinical Research Affiliate Hospitals: Carol G. Simon Cancer Center at Morristown Medical Center, Carol G. Simon Cancer Center at Overlook Medical Center, and Cooper University Hospital. Affiliate Hospitals: CentraState Healthcare System, JFK Medical Center, Robert Wood Johnson University Hospital Hamilton (CINJ Hamilton), Shore Medical Center, Somerset Medical Center, The University Hospital/UMDNJ-New Jersey Medical School*, and University Medical Center of Princeton at Plainsboro. *Academic Affiliate