Transgenic/Knock-out Mouse
Director: Yibin Kang, PhD and Eileen White, PhD
The Transgenic/Knock-out Mouse Shared Resource (TG/KO) provides a centralized expert facility for the generation of genetically engineered animals. The steadily expanding use of genetically engineered mouse models in cancer research has resulted in an explosion of information on the in vivo functions of oncogenes and tumor suppressor genes. This Shared Resource allows Cancer Institute members to affordably further their animal model-dependent research.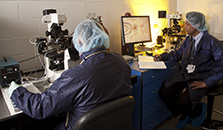 The specific objectives of this shared resource are:
To produce transgenic mice through pronuclear microinjection of DNA constructs
To produce gene-targeted mice through comprehensive services for ES culture, transfection, and screening, as well as generation of chimeric mice by blastocyst injection of targeted ES cell clones
To provide molecular biology services associated with the production and handling of genetically engineered mice, including preparation of DNA samples for pronuclear microinjection, assistance with screening of ES clones for targeted events, and genotyping of mice
To assist with mouse husbandry and phenotypic analysis through education and training for inexperienced investigators in the fundamentals of mouse handling and breeding strategies, as well as consultation on methods for phenotypic analysis of mouse mutants
To store mouse strains through sperm and embryo cryopreservation
To re-derive mouse strains for importation into specific pathogen-free (SPF) barrier housing
ACKNOWLEDGEMENT OF SHARED RESOURCES
The shared resources of the Rutgers Cancer Institute of New Jersey are specialized service facilities that support the cancer research efforts of our members.
The shared resources are supported primarily by the Cancer Center Support Grant (CCSG) from the National Cancer Institute.  Additional support may be provided from other sources, such as chargeback systems, institutional funding and/or other grants. The support from the CCSG allows the core facilities to provide benefits to Cancer Center members, such as ensured access to services or subsidies to user rates.
Please remember to acknowledge the valuable services provided by Cancer Institute of New Jersey Shared Resources in your research papers, publications and grant applications:
"This research was supported by the [insert name(s)] Shared Resource(s) of the Rutgers Cancer Institute of New Jersey (P30CA072720)."
(Note: please also consider including the names of individuals from the shared resources if they provided any intellectual input or additional effort.)