Sabaawy Laboratory
Research Overview
The research efforts in the Sabaawy laboratory are focused on studying normal and cancer stem cells using primary human cancer cells and mouse models, in combination with the zebrafish. These studies aim to dissect stem cell developmental pathways subverted in normal stem cell development, and how cancer stem cells divert from these regulatory pathways. One major pathway for research focus in the lab is to identify targets for modifying self-renewal of normal and cancer stem cells. Using genome-wide modifier screens in conjunction transgenic and xenograft approaches, the laboratory is generating zebrafish models of several different cancers, including the major subtypes of human myeloid and lymphoid leukemias.

One in three children with pre-B acute lymphoblastic leukemia (ALL) carries the t(12;21) translocation marker, making it the most common genetic defect in all childhood cancer, and one that is also found in leukemic blood from adult ALL. The laboratory generated zebrafish with this t(12;21) translocation. These transgenic zebrafish that carry the human fusion develop leukemias similar to human pre-B ALL. Recently, we have also generated zebrafish that have translocations from the endogenous zebrafish sequences. Chemical and genetic modifier screens using tumor-prone zebrafish lines may ultimately reveal mutant genes or drugs that can suppress or modify disease progression. 

Additionally, the laboratory is collaborating with several Cancer Institute investigators to utilize zebrafish in human tumor initiating cell xenografts, in an effort to predict the tumor response to therapy in a precision medicine approach. Through the combination of translational and drug discovery strategies, we hope to uncover novel genes and targets for the development of small molecule inhibitors that are more effective as cancer therapies. 

A parallel research effort in the Sabaawy laboratory is to study human mesenchymal stroma cell (MSC)-based therapy and transplantation in regenerative medicine. Cell therapy using stem cells for regeneration of a failing organ or injury repair is a promising approach. We are utilizing zebrafish reporter lines with spinal cord injury to study the dynamics of human MSC-mediated repair. These studies support the ongoing collaboration on international trials for utilizing MSCs cell therapy for injury repair. 
Laboratory Leadership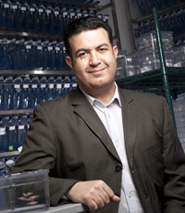 Hatem E. Sabaawy, MD, PhD is an assistant professor of medicine at Rutgers Robert Wood Johnson Medical School, an assistant professor of cellular and molecular pharmacology at the Rutgers Graduate School of Biomedical Sciences, director of the Cell and Gene Therapy Good Manufacturing Practice Facility at RWJMS, a member of the executive committee of the Stem Cell Institute of New Jersey, and a principal investigator at Rutgers Cancer Institute of New Jersey (CINJ) Molecular and Regenerative Medicine program. 

He had his medical residency and graduate training at Cairo University Hospitals in Cairo, Egypt, and New York Medical College in Valhalla, NY in clinical Hematology with PhD in Genetic Pharmacology from the Gene Therapy program at New York Medical College. Dr. Sabaawy went on to complete a fellowship at the Transplantation and Immunology Branch of the Center for Cancer Research at the National Institutes of Health (NIH) and the National Cancer Institute (NCI) in Bethesda, MD. 

His work at the Cancer Institute of New Jersey focuses on translational research studies of normal hematopoietic stem cells and tumor stem cell development utilizing mouse and zebrafish models. The studies received national funding from the National Institutes of Health and the Department of Defense. These studies aim to identify stem cell targets, genetic modifiers and small molecule inhibitors that would ultimately improve cancer patients' survival.