Precision Medicine Aims to Advance Personalized Cancer Treatments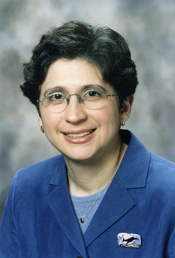 With recent advancements in technology and biomedical informatics, a more personalized approach to prescribing cancer treatment and developing these therapies is preferred over "one-size-fits-all" methods. The Cancer Institute of New Jersey has been on the cutting-edge of this movement and is now launching a more concrete effort that is poised to change the way that molecular and genetic information is being used to diagnose and treat cancer – an initiative known as "precision medicine" – also known to many as "personalized medicine."
Research has shown that cancer is not one disease, but rather a collection of diseases.  Each cancer sub-type boasts its own individual molecular makeup, which in many cases results in cancer growth and resistance to cancer-killing drugs.  By further defining the molecular profile of various cancer subtypes, investigators hope to apply this information toward developing targeted therapies. Large scale efforts on the national and local levels – including those at CINJ – have been underway to collect correlating clinical and genomic data to use as a road map in determining diagnosis, prognosis and course of treatment.  With CINJ's newly-established precision medicine initiative, specialized investigators will further integrate that information using state-of-the-art technology to better catalogue and expedite the flow of data from researcher to doctor to patient – and in turn back to the researcher.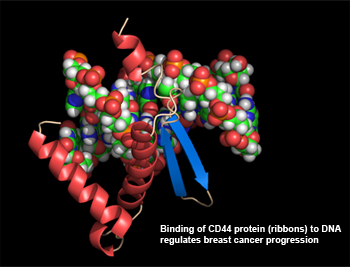 Illustration by John Kerrigan, PhD
Studies of cancer tumor growth progression paths like the CD44-DNA complex help direct the design of new therapies to combat cancer. The CD44-DNA is a CINJ research project that is looking at ways to develop targeted therapies to treat cancer with fewer side effects.
Leading this initiative is Lorna Rodriguez, MD, PhD, who served as CINJ's chief of gynecologic oncology from 2000 until this year before being asked to take on this new role. Dr. Rodriguez has years of experience running her own laboratory and investigator-initiated clinical trials including research on cancer metastasis, drug resistance and the CD44 cell surface receptor and the role it plays in ovarian and breast cancer metastasis. She feels the impact of precision medicine both on patients and on the health/biomedical communities will be tremendous. 
Editorial in the Journal of Clincal Oncology

 
For the most part, clinicians are forced to rely on limited information to make treatment decisions, as there hasn't been a mechanism to collect and catalogue such comprehensive data as tissue samples, patient history and treatment records to create the tumor profiles necessary for more personalized treatments," noted Rodriguez, who is also a professor of obstetrics, gynecology and reproductive sciences at UMDNJ-Robert Wood Johnson Medical School. "By compiling and further curating a collection of molecular and genetic data that will help drive new targeted therapies, we will be helping patients better manage their disease."