Histopathology and Imaging
Home | Services | Equipment | Service Request Form
Directors: Lauri Goodell, MD and David J. Foran, PhD
Histopathology Manager: Julia Friedman
Imaging Associate Director: Wenjin Chen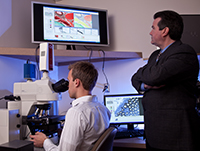 The Histopathology and Imaging Shared Resource provides high quality, cost effective histopathology services and capitalizes on limited tissue resources to provide The Cancer Institute of New Jersey members with large collections (tissue microarrays) of human or animal, normal or tumor histology specimens to identify and/or quantify the expression of proteins, mRNAs, and the presence of whole chromosomes as well as individual genes.  State-of-the-art imaging technology is available for Cancer Institute members to analyze and archive their histologic specimens.
The specific objectives of this shared resource are:
To provide immunohistochemical localization of cells and antigens using well-characterized antibodies in normal and malignant tissues
To define optimal conditions for novel, investigator-developed antibodies to localize tissue antigens
To provide tissue sections for investigators to procure pure cells from specific microscopic regions of tissue sections using microdissection
To assist investigators with all types of staining techniques (IHC, FISH, ISH, Q-dot) needed for visualization of cells/proteins including multi-color labeling
To construct TMA blocks for investigator-initiated translational research
To provide TMA sections containing large numbers of normal and malignant tissue cores
To provide digital high-power imaging and archiving of stained slides, and access to the images using distributed (virtual) microscopy
To provide unsupervised computer analysis of stained TMA slides in order to quantify expression of specific proteins and/or mRNA species within particular cell- or tissue types
To provide annotation of TMA tissue specimens by linkage of the image database to the Office of Human Research Services database for approved projects
To provide access to the image database for collaborative studies and data mining once image data have been made publicly available by individual investigators
ACKNOWLEDGEMENT OF SHARED RESOURCES
The shared resources of The Cancer Institute of New Jersey are specialized service facilities that support the cancer research efforts of our members.
The shared resources are supported primarily by the Cancer Center Support Grant (CCSG) from the National Cancer Institute.  Additional support may be provided from other sources, such as chargeback systems, institutional funding and/or other grants. The support from the CCSG allows the core facilities to provide benefits to Cancer Center members, such as ensured access to services or subsidies to user rates.
Please remember to acknowledge the valuable services provided by Cancer Institute Shared Resources in your research papers, publications and grant applications:
"This research was supported by the [insert name(s)] Shared Resource(s) of The Cancer Institute of New Jersey (P30CA072720)."
(Note: please also consider including the names of individuals from the shared resources if they provided any intellectual input or additional effort.)