Functional Genomics
Home | Services | Equipment | Service Request Form
Director: Shridar Ganesan, MD, PhD
Manager: Curtis Krier
The Functional Genomics Shared Resource is a centralized, high quality, cost-effective facility for gene expression and related analysis.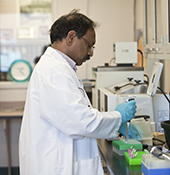 The specific objectives of this shared resource are:
In close cooperation with the Bioinformatics and Biometrics Shared Resources, to provide investigators with integrative consultation on experimental design, bioinformatics, and data analysis prior to initiation of experiments
To perform gene expression analysis on DNA microarray-based and RT-PCR platforms
To provide a range of services from single task to comprehensive, depending on the need and experience of the individual investigator
To work with the Bioinformatics Shared Resource to ensure seamless data collection, management and analysis
To provide an ongoing system of quality control and validation
To organize lectures and workshops designed to disseminate knowledge and research applications of Next Generation DNA sequencing and gene expression analysis to CINJ investigators and collaborators
To perform massively parallel, high-throughput next generation DNA sequence analysis to  support research in genomic sequencing, gene expression profiling (RNA-seq), and epigenetics, including changes in DNA methylation (methyl-C(bisulphite)-Seq) and chromatin modification/remodeling (ChIP-seq)(expected mid 2011)
ACKNOWLEDGEMENT OF SHARED RESOURCES
The shared resources of The Cancer Institute of New Jersey are specialized service facilities that support the cancer research efforts of our members.
The shared resources are supported primarily by the Cancer Center Support Grant (CCSG) from the National Cancer Institute.  Additional support may be provided from other sources, such as chargeback systems, institutional funding and/or other grants. The support from the CCSG allows the core facilities to provide benefits to Cancer Center members, such as ensured access to services or subsidies to user rates.
Please remember to acknowledge the valuable services provided by CINJ Shared Resources in your research papers, publications and grant applications:
"This research was supported by the [insert name(s)] Shared Resource(s) of The Cancer Institute of New Jersey (P30CA072720)."
(Note: please also consider including the names of individuals from the shared resources if they provided any intellectual input or additional effort.)