Real Stories from Rutgers Cancer Institute of New Jersey
JESSE REITNER was diagnosed with stomach cancer and looked for answers from many experts in other states. Some advised him that he could benefit from minimally invasive surgery. But Jesse became aware that if his cancer was extensive, minimally invasive surgery may not provide a complete solution. Jesse came to Rutgers Cancer Institute of New Jersey for treatment after hearing how the specialists here, like his physician Dr. David August, are offering successful treatment protocols. He underwent surgery, during which three-quarters of his stomach was removed to contain his cancer. He is back to running his successful deli and catering business and feels it's important for people to know the expertise available in New Jersey.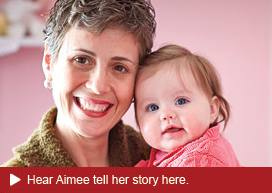 AIMEE PARANI and her husband Chris were living in St. Thomas when she learned she was pregnant with their second child. The couple, who also had a four-year-old, was concerned about schools for their children and decided to move to Florida. It was there that Aimee had a lump in her breast checked out and learned she had breast cancer. Aimee was told her best chance for survival was to abort her unborn baby—an option she and her husband were unwilling to consider. Aimee turned to her family for advice—and traveled to her hometown to seek consultation with the experts there. Her first stop was our System Partner, Jersey Shore University Medical Center. Aimee's physician referred her here to Dr. Deborah Toppmeyer, where she found a plan that would help her fight her cancer without losing her baby. Following treatment at the Cancer Institute of New Jersey, Aimee returned to Jersey Shore to receive her radiation treatments.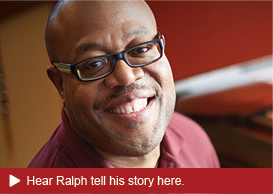 RALPH STOWE began his fight with prostate cancer while his brother was losing his battle with the same disease. In fact, he feels he owes his life to his brother's diagnosis. If it weren't for him, he would most likely not have been tested for prostate cancer at his young age. Ralph searched the web for information and learned about robotic prostate cancer surgery and Rutgers Cancer Institute of New Jersey. The experts here, including his physician Dr. Isaac Kim, are skilled at the most advanced procedures, protecting his quality of life as well as resecting the cancer. After winning his fight with prostate cancer, Ralph has become an advocate for prostate cancer awareness, inspired by his brother's courage.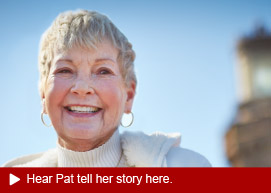 PAT GROVER is a New Jersey native who spends most of her time in Florida. When she began to have pain and discomfort in her shoulder and elbow, she sought answers from doctors there. She was shocked to learn the diagnosis was stage IV lung cancer—and that there was no hope. Pat decided to come home to New Jersey—to the Lung Cancer/Thoracic Oncology Program at Rutgers Cancer Institute of New Jersey—for a second opinion. After reviewing her case, doctors here, led by Dr. Joseph Aisner, felt something wasn't right with her initial diagnosis. They conducted additional tests and discovered that Pat suffered from a rare genetic disorder and, in reality, had stage III lung cancer. Her cancer was treatable. Since undergoing treatment, the nodules in Pat's lungs have decreased in density and she is hopeful that her progress will continue.


What does our NCI designation mean
to you?
We're one of only 41 National Cancer Institute-designated Comprehensive Cancer Centers in the nation—and the only one in New Jersey. What does that mean to you? Access to clinical trials and the latest treatments sooner. Care for even the most complex cancers locally. Consultations from other cancer centers across the country right here.