Liver Cancer and Bile Duct Cancer Care Program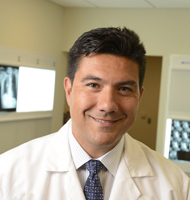 The Liver Cancer and Bile Duct Cancer Care Program is a multidisciplinary group dedicated to the treatment of liver tumors and bile duct tumors. Multidisciplinary cancer care has been shown in multiple studies to improve outcomes for liver and bile duct cancers. The Program's team of clinicians provides each patient with a comprehensive evaluation by multiple specialists which includes medical oncologists, radiation oncologists, surgical oncologists, interventional radiologists, gastroenterologists, pathologists, nurses, pharmacists, dietitians, and social workers.
Program team members meet regularly to discuss and recommend the best treatment options for patients which may include participation in a national cancer clinical research studies as well as studies available only at the Cancer Institute of New Jersey.
With translational research established as an important part of the Cancer Institute's mission, basic scientists regularly contribute their expertise assisting physicians with solving clinical problems. This integrated approach between clinicians and basic scientists allows the group to bring promising treatment options to the clinical setting more quickly quite literally bringing research to life.
Information regarding potential treatment options can be found at:

Clinical Trials:

Useful Links from the Resource and Learning Center:

Staff of this Program:
Darren R. Carpizo, MD, PhD, Surgical Oncologist
Michael Censullo, MD, Interventional Radiologist
Salma Jabbour, MD, Radiation Oncologist
Hazar Michael, MD, Gastroenterologist
John Nosher, MD, Interventional Radiologist
Carmela Hoefling, RN, MSN, AP-C, AOCNP, Advanced Practice Nurse
Joyce Plaza, RN, BSN, OCN, Staff Nurse
Brenda Bly, MSW, LCSW, LCADC, Social Worker