Center for Minimally Invasive Surgery
The multidisciplinary Center for Minimally Invasive Surgery at Rutgers Cancer Institute of New Jersey provides patients with the most advanced surgical options available including robotic and laparoscopic techniques to treat a variety of cancer types.
During a minimally invasive procedure, surgeons make several small incisions in the skin — just a few millimeters, in some cases. The surgery is performed through several tiny openings with the aid of a viewing scope known as an endoscopic camera. Images from the endoscope are projected onto monitors in the operating room so surgeons can get a clear and magnified view of the surgical area. Minimally invasive surgery has revolutionized surgery resulting in shorter hospital stays, faster recovery times, and reduced scarring and pain.
The Center offers patients access to a full range of minimally invasive procedures that play a key role in the treatment of multiple cancers, including gynecologic, prostate and other urologic cancers, as well as colorectal, lung, and liver cancers. It offers access to the most up to date, state-of-the-art methods including robotic surgery, single site minimally invasive surgery (both robotic and standard laparoscopic), and fluorescent dye technology that helps surgeons distinguish cancerous tissue from healthy tissue (used in a myriad of robotic procedures).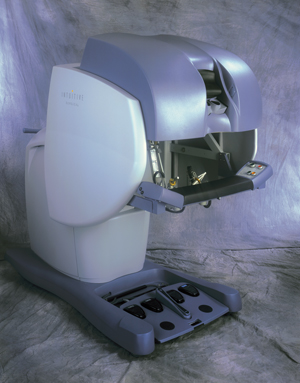 Specially trained and board certified in performing minimally-invasive and robotic surgery, our surgeons are some of the region's leading experts and most experienced in the field, which allows our team to address some of the most highly complex cases. In consultation with the surgeons and trained medical staff, every case is evaluated individually to determine the best surgical approach to a patient's specific condition. Our healthcare team members help patients decide whether this option is right for them.
Dr. Isaac Kim, chief of urologic oncology has conducted more than 1,200 robotic prostatectomies and has developed protocols that help to improve patient outcomes. 
In the division of surgical oncology, Dr. Nell Maloney-Patel has a robust experience with robotic colorectal procedures as well as single site hemicolectomy. In addition, the division is aggressively expanding its robotic experience to offer patients the most technologically advanced minimally invasive gastrointestinal and hepatobiliary surgery.
Working closely with healthcare team members from throughout the Cancer Institute and the Department of Surgery at Rutgers Robert Wood Johnson Medical School, our faculty members foster innovation in clinical surgical care, development of clinical trials, education, and research pertaining to minimally invasive surgery, leading to new techniques and technology in this ever-expanding field.
Single Incision Robotic Hysterectomy
Robotic hysterectomy only started to become a standard of care in women's health over the past five years, offering a minimally-invasive approach.  A series of four to five incisions measuring the diameter of a quarter were made in the pelvic region.  The latest robotic procedure known as the 'single port' method involves only one such incision – strategically placed near the belly-button to achieve a somewhat 'scarless' surgery, where in some patients the scar is barely noticeable to not noticeable at all.  The one-incision procedure, which takes the same amount of time to complete as the standard robotic method and requires special equipment, is made available only to select physicians throughout the country by the robotic device's manufacturer based on surgical experience.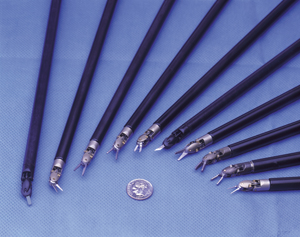 Robotic hysterectomy allows a surgeon to control a set of robotic arms that hold tiny surgical instruments used to remove the patient's uterus. Unlike the traditional open hysterectomy method that results in a lengthy scar crossing the entire bikini line, patients who undergo this latest minimally-invasive technique are left with an incision the diameter of a quarter.  The procedure also allows for additional precision with a 3-D view of the tissue. Reduced blood loss and a shorter hospital stay also are hallmarks of the procedure.
Our Physicians
Gynecologic Oncology
Urologic Oncology
Gastrointestinal Oncology

David August, MD
Chief of Gastrointestinal Surgical Oncology

Darren R. Carpizo, MD, PhD
Surgical Oncologist

Timothy J. Kennedy, MD, MBA
Surgical Oncologist

Nell Maloney Patel, MD
Colorectal Surgeon
Thoracic Oncology

Todd Demmy, MD, FACS, FCCP
Chief, Thoracic Oncology; Associate Chief Surgical Officer; and Chief, Thoracic Surgery, Division of Cardiothoracic Surgery

John Langenfeld, MD
Co-Director Lung Cancer / Thoracic Oncology Program and Thoracic Surgeon