Shore Medical Center
100 Medical Center Way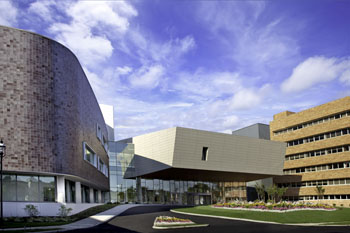 Somers Point, NJ 08244
609-653-3500
www.shoremedicalcenter.org/
At Shore Medical Center kindness complements an extraordinary level of clinical sophistication. Their people are the foundation of this modern medical center where advanced technology harmonizes with compassionate care.
Shore is a 296-bed full service medical center serving Atlantic and Cape May counties with a staff of more than 380 skilled physicians and more than 1,500 healthcare professionals and support staff.
In 2011 Shore opened its 138,000-square-foot, state-of-the-art Surgical Pavilion, adding a new level of high-tech diagnosis and treatment to the patient-centric values that have defined Shore for more than 70 years. The heart of the Surgical Pavilion can be found in its nine state-of-the-art operating suites, which are each 650 square feet and offer the most advanced technology, including a video wall that gives surgeons instant access to key patient information. Shore operates six Centers of Excellence – the Advanced Spine & Orthopedic Institute, Cancer Center, CardioVascular Insitute, Emergency Department, Neurosciences Center and Maternity & Pediatrics, which includes Shore's groundbreaking Pediatric Care Center, the first family-centric emergency and inpatient facility of its kind in New Jersey. Shore's passion to provide the community with quality care extends beyond its six Centers of Excellence and the passionate physicians, nurses and clinicians who call Shore home. In addition to being affiliated with the Cancer Institute of New Jersey, Shore is proudly affiliated with Penn Medicine, Onsite Neonatal Partners and Advanced Radiology Solutions, is a member of the Jefferson Neuroscience Network and has physicians on staff from the renowned Rothman Institute.