Return to Publications  |  Return to CINJ Home

The latest news on research, treatment, prevention and education from the
state's only National Cancer Institute-designated Comprehensive Cancer Center
A Silver Anniversary in Shaping Cancer Care
To help celebrate twenty-five years of improving the prevention, detection and treatment of cancer and the groundbreaking research that supports those advances, the 2016 Rutgers Cancer Institute of New Jersey Gala will honor the founders who forged the center's path and are continuing to shape its future. The funds raised from the event will propel the creation of new 'Revolutionary Awards' enabling scientists to have a transformative impact on the future of cancer care. The black tie affair will be held June 11 on the grounds of Cook Campus at Rutgers University.
Learn more
$1.8M Grant Supports Exploration of Drug Compound on Mutated Gene
Rutgers Cancer Institute of New Jersey researcher and surgical oncologist Darren R. Carpizo, MD, PhD, has been awarded a $1.8 million grant (R01-CA200800) from the National Cancer Institute to build upon his research examining a drug compound that restores tumor suppressor function in the most commonly mutated gene in human cancer - the p53 gene. Dr. Carpizo, who is also an associate professor of surgery and pharmacology at Rutgers Robert Wood Johnson Medical School, aims to lay the foundation for a new class of anti-cancer therapies.
Learn more
Nurses Examine the Topics of Cancer and Sexual Health and Alternate Route Chemotherapy at National Meeting
The topic of sexual dysfunction may be a difficult one to discuss between healthcare providers and cancer patients. Given the importance of this subject to patients, the nursing and social work teams at Rutgers Cancer Institute of New Jersey explored this issue in order to improve how the topic of sexual health is addressed with oncology patients. Rutgers Cancer Institute nurses also examined how to ensure the safety of alternate route chemotherapy administration. The work was recently presented at the Oncology Nursing Society's Annual Congress meeting.
Learn more
Poor Responding Gynecologic Cancers Get Boost from Genomic Profiling
Research from the Rutgers Cancer Institute of New Jersey precision medicine team examining gynecologic cancers that poorly respond to therapy shows genomic profiling can help identify alternate and targeted treatments. Tissue specimens from 69 patients were analyzed through sequencing technology. Outcomes for 64 available cases showed an average 4.97 genomic alterations per tumor, which gave physicians a more targeted aim in recommending tailored treatment. The findings were presented at the recent Annual Meeting of the American Association for Cancer Research.
Learn more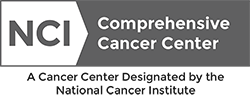 Office of Communications         ·         www.cinj.org        ·        732-235-9871