Return to Publications  |  Return to CINJ Home

The latest news on research, treatment, prevention and education from the
state's only National Cancer Institute-designated Comprehensive Cancer Center
Rutgers Cancer Institute Doctors Named Among Best in Women's Health
Several physicians at Rutgers Cancer Institute of New Jersey have been named as a 'Top Doctor for Women's Health' by Inside Jersey magazine. Under the direction of Castle Connolly Medical Ltd., peer nominations were reviewed and assessed by a physician-led research team. Attributes considered included board certification, medical education, training, and years in practice. Thousands of healthcare professionals from across the state took part in the nomination process, resulting in the selection of 301 doctors for this year's honor.
Learn who is on the list
Making PROGRESS Against Prostate Cancer
The System Partner of Rutgers Cancer Institute of New Jersey, Meridian Health is joining forces with Rutgers Cancer Institute in offering access to a research study aimed at prostate cancer patients who are transitioning to survivorship. The study - known as the Prostate Cancer Online Guide and Resources for Electronic Survivorship Service (PROGRESS) clinical trial - examines whether print or online materials are more helpful to prostate cancer patients in adapting to life after treatment.
Learn more
Exploring Genomic Pathways in the Development of Ovarian Cancer
Rutgers Cancer Institute of New Jersey researcher Michael L. Gatza, PhD, an assistant professor of radiation oncology at Rutgers Robert Wood Johnson Medical School, has received a $747,000 Pathway to Independence Award (R00-CA166228) from the National Cancer Institute to explore the mechanism behind the development of a subtype of ovarian cancer known as high-grade serous ovarian cancer. The aim is to identify what drives cell pathway activity so that novel therapeutic strategies can be developed to treat this disease.
Learn more
Assessing the Role of Autophagy in Prostate Cancer
Research from investigators at Rutgers Cancer Institute of New Jersey and the Herbert Irving Comprehensive Cancer Center at Columbia University Medical Center, shows that the intracellular process of autophagy plays a role in the development of prostate cancer. Rutgers Cancer Institute Deputy Director Eileen P. White, PhD, distinguished professor of molecular biology and biochemistry in the School of Arts and Sciences at Rutgers University, and Rutgers Cancer Institute Director Robert S. DiPaola, MD, are the co-corresponding authors of the work published in the February 15 edition of Genes & Development.
Learn more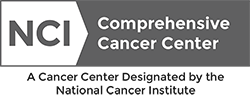 Office of Communications         ·         www.cinj.org        ·        732-235-9871