CURE Program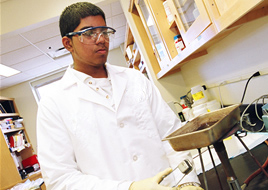 The CURE (Continuing Umbrella for Research Experience) Program provides research training and academic and professional enrichment activities for highly motivated local high school and undergraduate underrepresented minority students.

To be eligible the students must:
Be at least one of the following:

From a racial/ethnic group that is underrepresented in the sciences
A first generation college student
Economically disadvantaged

Be a high school student at the New Brunswick Health Sciences Technology High School (NBHSTHS) OR New Brunswick High School OR be an undergraduate student at Rutgers, The State University of New Jersey
Commit to at least 4 hours per week (one afternoon per week) during the academic year and 40 hrs. per week during the summer, to research and program activities for a period of two years
Have an interest in pursuing a biomedical or health-related research career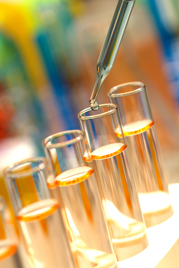 The program is funded by grants from the National Cancer Institute and Johnson & Johnson. Clinical and basic science investigators at Rutgers Cancer Institute serve as faculty advisors for the CURE program. All advisors have established research programs and expertise in mentoring students. Students spend 90% of their time working on their research projects under the guidance of a faculty mentor (advisor) and a peer mentor, who is typically a post-doctoral fellow in the advisor's group. Additional educational and professional support is derived from a course in cancer biology developed specifically for the program, a number of seminars held at CINJ and special lectures and professional enrichment activities organized specifically for the students in the program.
Each trainee spends the first year of the program in developing a small independent research project in addition to participating in the various lectures, seminars and other educational activities associated with the program.  Trainees are also required to maintain a minimum GPA of 3.2, participate fully in program activities, write a research manuscript and do a research presentation based on their project towards the end of their training.
Ongoing evaluation is critical to the improvement of the quality of the experience provided to the trainees in Rutgers Cancer Institute's CURE program. Therefore, in addition to tracking the trainees for five years after leaving the program to perform outcome assessment, the program is evaluated by the trainees and the mentors on an ongoing basis.
For additional information, contact:
Sunita Chaudhary, PhD
Director, Research Education
Rutgers Cancer Institute of New Jersey
chaudhs4@cinj.rutgers.edu
732-235-9869