An Ounce of Prevention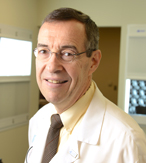 By David A. August, MD, as published in the January edition of the New Jersey Department of Health's 'New Jersey Health Matters' 
With the New Year just beginning, many take the time to reassess their health and take the opportunity to make positive changes, especially when it comes to cancer prevention.  It is estimated that more than 50,000 new cases of cancer will have been diagnosed in New Jersey in 2012, and 16,000 Garden State residents will die of the disease.  The most important things you can do to protect yourself from cancer include staying away from tobacco; maintaining a healthy weight;  eating plenty of fruits and vegetables; engaging in regular physical activity; limiting alcohol intake; and knowing your family history and health risks.
Even if you adopt all of these healthy habits, or if you have not always been able to follow these guidelines, there still remains a significant risk for the development of cancer.  Early detection is a key to minimizing cancer's impact on your overall health, and it is the best way to maximize your chances of being cured.  Regular check-ups and cancer screening tests are a key to maintaining your health and assuring a long and healthy life.
Cancer screening involves the use of a periodic history and physical exam by a health care provider to look for signs of cancer and to identify any personal risk factors (tobacco use, obesity, family history, etc.).  It also involves the use of periodic tests to look for evidence of early cancers or even pre-cancerous lesions such as colon polyps that may be removed before they actually turn into cancer.  It is important to keep in mind that cancer screening is designed to find early cancers in asymptomatic patients who do not have any strong risk factors.  People with strong risk factors or symptoms should promptly meet with their health care provider to determine what immediate steps should be taken to diagnose a possible cancer.
Breast Cancer:
The American Cancer Society recommends breast self-exams starting in the early 20s and clinical breast exams at least every three years for women in their 20s and 30s.
 
The U.S. Preventive Services Task Force recommends women have mammograms every other year beginning at age 50 (noting family or genetic history may prompt an earlier start and/or more frequent check-ups); however, a number of cancer and breast health entities including The Cancer Institute of New Jersey and the American Cancer Society continue to recommend the guideline of annual mammograms beginning at age 40.
 
All women should consult with their physician to assess their level of risk and develop an appropriate screening regimen.
Cervical Cancer:
Experts recommend that on average, women should have cervical cancer screenings (Pap test) every one to two years between the ages of 21 and 30, and at least once every three years after age 30.
Colon and Rectal Cancer:
The American Cancer Society recommends that starting at age 50, both men and women should follow a testing schedule of:
Colonoscopy every 10 years
 
Double-contrast barium enema every 5 years
 
Or other test routine as discussed with a healthcare professional.
Prostate Cancer:
The American Urological Association recommends that men should have a baseline prostate-specific antigen (PSA) blood test and a digital rectal examination at age 40. Men should have individual conversations with their doctors about whether proceeding with these tests on an annual basis is right for them.
 
Men who are at higher risk, i.e.: African American men and men with a family history of prostate cancer, may be encouraged to begin testing annually earlier than 40 depending on risk factors discussed with a medical professional.
Skin:
Starting at age 20, men and women should begin self examinations of their skin using a full length mirror to examine changes in moles and freckles. 
It is important that you speak regularly with your health care provider about cancer risk and cancer screening, so that an optimal prevention and screening regimen can be designed to meet your needs and circumstances.  Don't forget, you can help take control of your own cancer health!
David A. August, MD, is the chief of Surgical Oncology at The Cancer Institute of New Jersey and a professor of surgery at UMDNJ-Robert Wood Johnson Medical School.  Dr. August is also the director of the Gastrointestinal/Hepatobiliary Oncology Program at The Cancer Institute of New Jersey.