My New Year's Resolution: I will quit tobacco this year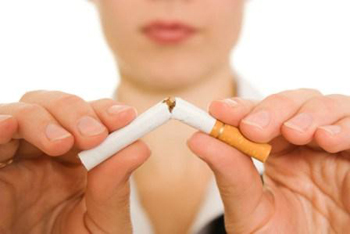 Once again a New Year is here.  Many look at this time of year as an opportunity to improve on one's health.  Along with more common resolutions of exercising more and eating right, quitting smoking is also a popular one to set.  Donna Richardson, MSW, LCSW, LCADC, CTTS, clinical coordinator for the Tobacco Dependence Program at the Cancer Institute of New Jersey, Robert Wood Johnson Medical School and School of Public Health at Rutgers University, shares some tips on how to achieve that goal.
Q:  What is one of the toughest challenges about this process?
A:  Changing one's behavior is pretty tough.  We may brush it off by explaining that we have 'no willpower.'  When the plan is to quit smoking, we need reasons to quit, and we need determination. Even with lots of both, we may not succeed. When our brains receive a built-in reward from the "bad habit" (in the form of a chemical called dopamine with each puff), we need a really good plan. We need a plan supported by science. 
Q:  What would such a plan look like?
A:  A comprehensive approach is best. Some individuals may succeed in going "cold turkey." However, research shows that people who use comprehensive treatment have succeeded at rates 10 times higher than those who try to quit on their own. Tools to manage withdrawal symptoms are a key resource. The FDA has approved seven medications to help manage withdrawal from tobacco:  nicotine patch, nicotine gum, nicotine lozenge, nicotine inhaler, nicotine nasal spray, bupropion and varenicline.  Seek help to determine which aids are best for you. Learn how to use the medicines to your best advantage.  One common mistake is to under dose.  Another common mistake is to stop using the medications too soon. Ask your healthcare professional what might be best for you, or seek help through specialized quit services, such as those at the Tobacco Dependence Program, or a quit line (1-800-Quit-Now) or 1-866-NJSTOPS.
Q:  What are other parts of a good plan?
A:  You really need a plan tailored for you that address realistic goals that fit in with your life and your needs at this time. Individual and/or group treatment offers the kind of support that can help keep you on track with those goals. Find a coach or a counselor, on the phone or in person. Contact us at the Tobacco Dependence Program (732 235-8222), call 1-800-Quit Now, or log in to BecomeAnEx.org.    
Q:  What do you say to those who have tried and haven't been successful?
A:  Don't give up. It takes people on average eight times before they succeed. Each cigarette you don't smoke gives your body a break and helps you build the confidence you need to succeed.