Meet CINJ's Nurses
Joan Quagliata, RN, OCN
Joan Quagliata, RN, OCN, is an adult treatment nurse at The Cancer Institute of New Jersey. We asked her about her experience in nursing.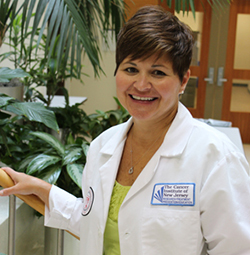 I remember always wanting to be a nurse since I was a young girl. However, going into oncology was not my first choice, but I guess you can say it chose me. My diagnosis with cancer during the same time I was a nursing student led me to my career in oncology. I am a cancer survivor since 1985. The nurses who cared for me and who I learned from as a student, displayed such dedication and skill that I knew at that time this was the nursing path I wanted to take.
Oncology nursing, like the old ad for the Peace Corps, is "the toughest job you will ever love."

— Joan Quagliata, RN, OCN
Throughout the years, I have worked in oncology and have been very fortunate in my career to have worked with wonderful nurses and physicians who have taught me so much. I started working at UMDNJ in 1988 in the hematology/oncology clinic and in December, 2004 I transferred to CINJ where I worked as a staff nurse in the treatment area. As the primary nurse who cared for patients undergoing Phase I clinical trials I learned the complexities of clinical trials and their importance for patients. The changes in therapies throughout the years have astounded me and I feel fortunate to be a part of it.

Recently my 25th year as a nurse made me reflect about what I would want to do in the next part of my life. I have been certified as an oncology nurse throughout my career, but a new certification caught my eye – Certified Breast Care Nurse. I earned the breast care certification in August 2011 and now have the opportunity to work with the Breast Surgical Oncology group at CINJ.
Oncology nursing, like the old ad for the Peace Corps, is "the toughest job you will ever love. "It is the patients, their families, and the opportunity to help them through their struggles and triumphs that inspire me as a nurse and as a person.  My wonderful family provides the balance that is needed to work in this challenging field. I wouldn't change a thing!