The 'Skinny' on Healthy Holiday Eating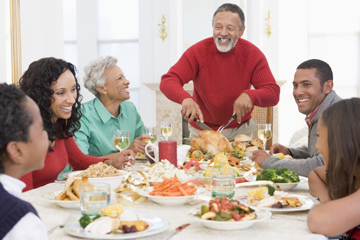 The holiday season traditionally brings parties and extra treats you normally would not eat all year long.  Couple that with eating on the run while traveling and shopping, and you have a recipe for weight gain, which can be a factor in heart disease, diabetes, and even cancer.  Elisa V. Bandera, MD, PhD, an epidemiologist at Rutgers Cancer Institute of New Jersey and Rutgers School of Public Health who studies nutritional and lifestyle factors in the development of breast cancer, shares some tips on how to keep your waistline in check this season.
Q: According to the American Institute for Cancer Research, approximately one third of all cancers can be prevented by maintaining a healthy weight, a physically active lifestyle and consuming a healthy diet.  What is the best way to accomplish this during the holidays?
A: The good news is, you can still enjoy some of your favorite dishes – it's just a matter of moderation and making better choices.  For instance, avoid creamy-looking foods (soups, dips, dressing), as they are high in saturated fat and calories.  Fill most of your plate with vegetables and fruit, which are high in nutrients and low in calories.  Salads with vegetables are a great choice, but keep in mind add-ons like bacon and croutons add fat and calories. Choose whole grains instead of refined products.  Whole grains have more nutrient and minerals and tend to be metabolized more slowly than refined grains, thus you will feel less hungry for a longer period of time after you eat them.  And we all love desserts, but many of our favorites are full of sugar and fat and high in calories. Fruit salads made with fresh fruit and garnished with fruit juice or non-fat yogurt are the best choices for dessert. If you make an exception for a special holiday cake or cookie, that is fine, but make it a small piece and refrain from seconds.   
Q:  What about beverages?
A:  As far as beverages, avoid sugary drinks.   Water and unsweetened tea are good choices.  And alcohol consumption should be in moderation.  While less than one drink per day for women and less than two for men has been shown to have some benefit in relation to heart disease, even one drink per day has been associated with an increased risk of breast cancer. 
Q:  What are some other tips?
A:  The extra errands and traveling during the holiday season may make it difficult to stick to a regular fitness routine, but try to remain physically active during this period.  Chances are you're seeing family and friends during this time.  Plan activities with them that involve a lot of movement, such as walking or biking.  If you make it fun, it won't feel like such a chore, and you'll be giving yourself the best gift of all this holiday season – the gift of good health.