Oncology Nursing Month Celebrated at CINJ with Recognition Ceremony and Lecture
Author and Cancer Survivor Discusses Nurses' Emotional Healing Abilities and Survival Attributes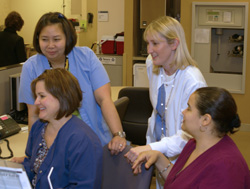 New Brunswick, N.J.– Applauding the expertise and caring nature of its dedicated nursing team, The Cancer Institute of New Jersey (CINJ) is celebrating these professionals during this Oncology Nursing Month. An annual recognition event culminated earlier this week at CINJ with the Elizabeth Gibby Osborne Lecture and the Oncology Nursing Excellence Awards, which are scholarships awarded to outstanding nurses at CINJ.  The event aims to acknowledge the CINJ nursing staff for the great strides it continues to make in caring for, communicating with and educating patients and their families. CINJ is a Center of Excellence of UMDNJ-Robert Wood Johnson Medical School.
The lectureship and awards are underwritten in part by the Elizabeth Gibby Osborne Lecture and Scholarship Fund. The fund bearing Osborne's name was established immediately following her death from cancer in 2004. "Liz"-- as she was affectionately known by the nurses at CINJ who treated her -- was a long-time resident of central New Jersey.  Due to Liz's strong belief in education, her husband Bill created the fund in an effort to give oncology nurses at CINJ an opportunity to learn more about their profession from experts across the nation.
This year's guest lecturer was Meg Brown, who is an author, renowned speaker, and cancer survivor. She believes that nurses have the ability to enhance the mind, strengthen the spirit, and save the soul. Ms. Brown shared with the audience the six key attributes that helped her survive a near fatal bout with non-Hodgkin's lymphoma -- attributes she believes can help in tackling any challenge, especially in the nursing profession: expertise, positive attitude, love, faith, exercise, and luck.
CINJ's Interim Chief Nursing Officer Margaret Joyce, PhD, RN, AOCN, notes support for extended educational opportunities for nurses is key. "It is vital that oncology nurses have an opportunity to learn from those who have broad backgrounds.  While learning about new research, treatment and education methods is critical, discovering certain attributes within one's self that provide strength and coping skills in handling the daily challenges of nursing is just as important," she noted. "By encouraging our nurses to go beyond the classroom and clinic setting and look within themselves, we are fostering an environment of compassion, which ultimately translates to our patients."
Along with the lectureship, the other highlight to this year's celebration was the awarding of the annual Oncology Nursing Excellence Awards. Beth Knox, MSN, RN, APRN, BC, and Mary Surman, BSN, RN, OCN, captured this year's honors for being leaders in patient care and education in the respective categories of Advance Practice Nursing and Research Nurse Clinician.  Cho Chan, BSN, RN, OCN, was recognized under a new award category for Primary Care Treatment Nursing, while Kathy Morris, BSN, RN, OCN, was recognized in her role as Nurse Clinician. All four women were regarded for their collaborative efforts with fellow nurses, doctors and other team members, and were heralded as champions for promoting oncology nursing as a profession. Also nominated were Stephanie Beers, BSN, RN, OCN; Sonya Greenwood, RN, OCN; Margaret Joyce, PhD, RN, AOCN; and Pamela Scott, RN.

About The Cancer Institute of New Jersey
The Cancer Institute of New Jersey (www.cinj.org) is the state's first and only National Cancer Institute-designated Comprehensive Cancer Center dedicated to improving the detection, treatment and care of patients with cancer, and serving as an education resource for cancer prevention. CINJ's physician-scientists engage in translational research, transforming their laboratory discoveries into clinical practice, quite literally bringing research to life.  To make a tax-deductible gift to support CINJ, call 732-235-8614 or visit www.cinjfoundation.org. CINJ is a Center of Excellence of UMDNJ-Robert Wood Johnson Medical School.
The CINJ Network is comprised of hospitals throughout the state and provides a mechanism to rapidly disseminate important discoveries into the community. Flagship Hospital: Robert Wood Johnson University Hospital. Major Clinical Research Affiliate Hospitals: Carol G. Simon Cancer Center at Morristown Memorial Hospital, Carol G. Simon Cancer Center at Overlook Hospital, Cooper University Hospital and Jersey Shore University Medical Center. Affiliate Hospitals: Bayshore Community Hospital, CentraState Healthcare System, JFK Medical Center, Mountainside Hospital, Raritan Bay Medical Center, Robert Wood Johnson University Hospital at Hamilton (CINJ at Hamilton), Saint Peter's University Hospital, Somerset Medical Center, Southern Ocean County Hospital, The University Hospital/UMDNJ-New Jersey Medical School*, and University Medical Center at Princeton. *Academic Affiliate