Identifying Altered Pathways Key to Targeting New Therapies for HER2 and Metastatic Breast Cancers
Research from The Cancer Institute of New Jersey Presented at 102nd Annual AACR Meeting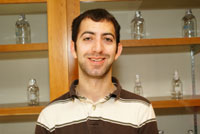 New Brunswick, N.J.– Research from The Cancer Institute of New Jersey (CINJ) on biological pathways that govern progression and treatment responsiveness of HER2 positive breast cancer is being presented at the 102nd Annual Meeting of the American Association for Cancer Research (AACR) being held in Orlando this week.  CINJ is a Center of Excellence of UMDNJ-Robert Wood Johnson Medical School.
The focus of this poster presentation is the protein known as Human Epidermal growth factor Receptor 2 (HER2/neu) and the role it plays in breast cancer aggressiveness, poor clinical outcome and chemotherapy resistance.  About thirty percent of breast cancers have high levels of the HER2 protein.
This current research by lead investigator Fred Lozy, a member of the Dr. Vassiliki Karantza laboratory at CINJ, finds that under stressful conditions, the presence of too much HER2 causes a decrease in autophagy. Autophagy is an energy recycling process that helps cells to survive, but under certain conditions can also go awry and result in tumor formation.   Normally, a decrease in this process would hinder a cell's ability to survive; however, in this case, utilizing laboratory models and gene expression profiling, Lozy and colleagues found that these cells alter other cellular processes to compensate for the lack of autophagy.  Consequently, changes in these cellular processes may increase breast cancer growth, metastasis, and/or enable the disease to become resistant to chemotherapy.
"Identifying altered pathways is an important step that may help scientists discover how breast cancer progresses as well as find new targets for breast cancer therapies," noted Lozy, who is also a PhD graduate student in the joint Graduate Program in Cell and Developmental Biology at the UMDNJ-Graduate School of Biomedical Sciences at Robert Wood Johnson Medical School and Rutgers, The State University of New Jersey.
Other investigators include Anupama Reddy, PhD, Rutgers University; Gregory Miles, MS, CINJ and UMDNJ-Robert Wood Johnson Medical School; Gyan Bhanot, PhD, CINJ and Rutgers University; Shridar Ganesan, MD, PhD, CINJ and UMDNJ-Robert Wood Johnson Medical School; and Vassiliki Karantza, MD, PhD, CINJ and UMDNJ-Robert Wood Johnson Medical School.
The work was supported by an award from the New Jersey Commission on Cancer Research.
The research represented by CINJ members is among the more than 6,000 abstracts being presented at the gathering, in which researchers, healthcare professionals, and patient advocates participate.  The event is open to registered participants.

About The Cancer Institute of New Jersey
The Cancer Institute of New Jersey (www.cinj.org) is the state's first and only National Cancer Institute-designated Comprehensive Cancer Center dedicated to improving the detection, treatment and care of patients with cancer, and serving as an education resource for cancer prevention. CINJ's physician-scientists engage in translational research, transforming their laboratory discoveries into clinical practice, quite literally bringing research to life.  To make a tax-deductible gift to support CINJ, call 732-235-8614 or visit www.cinjfoundation.org. CINJ is a Center of Excellence of UMDNJ-Robert Wood Johnson Medical School.
The CINJ Network is comprised of hospitals throughout the state and provides the highest quality cancer care and rapid dissemination of important discoveries into the community. Flagship Hospital: Robert Wood Johnson University Hospital. System Partner: Meridian Health (Jersey Shore University Medical Center, Ocean Medical Center, Riverview Medical Center, Southern Ocean Medical Center, and Bayshore Community Hospital). Major Clinical Research Affiliate Hospitals: Carol G. Simon Cancer Center at Morristown Memorial Hospital, Carol G. Simon Cancer Center at Overlook Hospital, and Cooper University Hospital. Affiliate Hospitals: CentraState Healthcare System, JFK Medical Center, Mountainside Hospital, Raritan Bay Medical Center, Robert Wood Johnson University Hospital Hamilton (CINJ Hamilton), Somerset Medical Center, The University Hospital/UMDNJ-New Jersey Medical School*, and University Medical Center at Princeton. *Academic Affiliate