Researcher Awarded $1M in NIH Funding to Investigate the Role of Cell Metabolism in Cancer Growth
Associate Director at The Cancer Institute of New Jersey and Rutgers Professor Receives Challenge Grant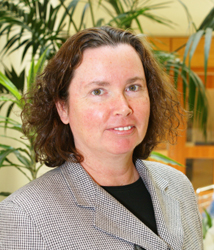 New Brunswick, N.J.– Eileen White, PhD, associate director of basic science at The Cancer Institute of New Jersey (CINJ) and professor of molecular biology and biochemistry at Rutgers, The State University of New Jersey, and colleagues have been awarded a $1 million research grant from the National Institutes of Health (NIH).  CINJ is a Center of Excellence of UMDNJ-Robert Wood Johnson Medical School.
The funding (1RC1CA147961-01), which is part of the NIH Challenge Grant Program through the American Recovery and Reinvestment Act, will support a two-year study on the role of cellular metabolism in the development and progression of cancer.  Some 21,000 applicants responded to the Challenge Grant announcement.  Dr. White's proposal was among the one to two percent funded through the program. 
White and her collaborating co-principal investigators at Princeton University, Hilary Coller, PhD, assistant professor in the Department of Molecular Biology, and Joshua Rabinowitz, MD, PhD, assistant professor in the Department of Chemistry and the Lewis-Sigler Institute for Integrative Genomics, will conduct their laboratory research on the "Role of Tumor and Stromal Cell Metabolism in Stress Adaptation and Progression" at both CINJ and Princeton University. 
An important and newly recognized mechanism of tumor cell survival identified in the White laboratory is through the cellular self-cannibalization process of autophagy.  By eating themselves, tumor cells can support metabolism and survive under stressful conditions including starvation and chemotherapy.  This process allows tumor cells to become dormant and then to re-emerge and resume tumor growth at a later time when conditions are more favorable.  The preservation of these "sleeper tumor cells" may be the cause of cancer treatment relapses that often are fatal.  This new grant will aid a collaborative effort that involves CINJ, Rutgers and Princeton, to identify means to eradicate these dormant tumor cells, improving the outcome of cancer therapy.
White, who also is the program leader of the Cell Death and Survival Signaling Program at CINJ and an adjunct professor of surgery at UMDNJ-Robert Wood Johnson Medical School, notes, "Importantly, these metabolic alterations distinguish tumor cells from normal cells, providing a possible 'Achilles' heel' to cancer and the potential to identify novel targets for anti-cancer drug discovery."   White also serves as a member of the Board of Directors of the American Association for Cancer Research.

About The Cancer Institute of New Jersey
The Cancer Institute of New Jersey is the state's first and only National Cancer Institute-designated Comprehensive Cancer Center, and is dedicated to improving the prevention, detection, treatment and care of patients with cancer. CINJ's physician-scientists engage in translational research, transforming their laboratory discoveries into clinical practice, quite literally bringing research to life. The Cancer Institute of New Jersey is a center of excellence of UMDNJ-Robert Wood Johnson Medical School. To support CINJ, please call the Cancer Institute of New Jersey Foundation at 1-888-333-CINJ.
The Cancer Institute of New Jersey Network is comprised of hospitals throughout the state and provides a mechanism to rapidly disseminate important discoveries into the community. Flagship Hospital: Robert Wood Johnson University Hospital. Major Clinical Research Affiliate Hospitals: Carol G. Simon Cancer Center at Morristown Memorial Hospital, Carol G. Simon Cancer Center at Overlook Hospital, and Jersey Shore University Medical Center. Affiliate Hospitals: Bayshore Community Hospital, CentraState Healthcare System, Cooper University Hospital*, JFK Medical Center, Mountainside Hospital, Raritan Bay Medical Center, Robert Wood Johnson University Hospital at Hamilton (CINJ at Hamilton), Saint Peter's University Hospital, Somerset Medical Center, Southern Ocean County Hospital, The University Hospital/UMDNJ-New Jersey Medical School*, and University Medical Center at Princeton. *Academic Affiliate