New Chief Medical Officer Named at The Cancer Institute of New Jersey
Montgomery Township Resident Tapped for Leadership Post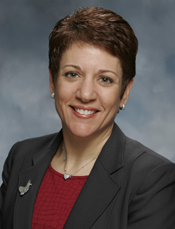 New Brunswick, N.J. – A Belle Mead (Somerset County) resident has been named the new chief medical officer at The Cancer Institute of New Jersey (CINJ). Deborah L. Toppmeyer, MD, an associate professor of medicine at UMDNJ-Robert Wood Johnson Medical School, was recently appointed by CINJ Director Robert S. DiPaola, MD. CINJ is a Center of Excellence of UMDNJ-Robert Wood Johnson Medical School.
Dr. Toppmeyer joined CINJ in 1995 from the Dana Farber Cancer Institute at Harvard Medical School. She is an expert in breast cancer, breast cancer genetics and the design and implementation of clinical trials that offer promising new therapies targeted to specific types of breast cancer. As chief medical officer, she will be responsible for compliance with all clinical medical policies, regulations and clinical performance standards of the state, the federal government, and accrediting bodies. She will have oversight and responsibility for all of CINJ's clinical objectives and serve as CINJ's ultimate authority on medical issues.
Through her role as director both of CINJ's Stacy Goldstein Breast Cancer Center and of the LIFE (LPGA pros In the Fight to Eradicate breast cancer) Center, Toppmeyer helps patients navigate through treatment options while encouraging enrollment in clinical trials. She is also the chief of solid tumor oncology at CINJ.
"Over the past 16 years, Dr. Toppmeyer has played an integral role in the advancement and success of CINJ. As a renowned researcher and clinician, Dr. Toppmeyer has drawn upon and shared that wealth of experience in order to successfully meet the needs of patients while growing CINJ clinic operations and clinical trial accrual. I have every confidence that in her new role, she will help move CINJ forward in an even greater capacity" noted Dr. DiPaola, a professor of medicine at UMDNJ-Robert Wood Johnson Medical School.
Toppmeyer is the author or co-author of more than 40 publications and serves on the editorial board of the journal Clinical Cancer Research. She also serves as a core member for the Breast Committee of the Eastern Cooperative Oncology Group, which is one of the nation's largest clinical cancer research organizations that conducts clinical trials in all types of adult cancers.
About The Cancer Institute of New Jersey
The Cancer Institute of New Jersey (www.cinj.org) is the state's first and only National Cancer Institute-designated Comprehensive Cancer Center dedicated to improving the detection, treatment and care of patients with cancer, and serving as an education resource for cancer prevention. CINJ's physician-scientists engage in translational research, transforming their laboratory discoveries into clinical practice, quite literally bringing research to life. To make a tax-deductible gift to support CINJ, call 732-235-8614 or visit www.cinjfoundation.org. CINJ is a Center of Excellence of UMDNJ-Robert Wood Johnson Medical School. Follow us on Facebook at www.facebook.com/TheCINJ.
The CINJ Network is comprised of hospitals throughout the state and provides the highest quality cancer care and rapid dissemination of important discoveries into the community. Flagship Hospital: Robert Wood Johnson University Hospital. System Partner: Meridian Health (Jersey Shore University Medical Center, Ocean Medical Center, Riverview Medical Center, Southern Ocean Medical Center, and Bayshore Community Hospital). Major Clinical Research Affiliate Hospitals: Carol G. Simon Cancer Center at Morristown Medical Center, Carol G. Simon Cancer Center at Overlook Medical Center, and Cooper University Hospital. Affiliate Hospitals: CentraState Healthcare System, JFK Medical Center, Mountainside Hospital, Robert Wood Johnson University Hospital Hamilton (CINJ Hamilton), Somerset Medical Center, The University Hospital/UMDNJ-New Jersey Medical School*, and University Medical Center at Princeton. *Academic Affiliate