The Cancer Institute of New Jersey and the Department of Health and Senior Services Commemorate Teen Cancer Awareness Week
In recognition of Teen Cancer Awareness Week, New Jersey Department of Health and Senior Services Commissioner Dr. Poonam Alaigh visited the Alicia Rose Teen Lounge at The Cancer Institute of New Jersey on January 18, 2011.  The room, named in honor of the South Jersey teen who lost her battle with cancer at age 17 and established through the Alicia Rose 'Victorious' Foundation, features such amenities as laptop computers, a television, and gaming system. Dignitaries attended a special commemoration event and addressed the unique needs faced by this population. "It is critical to recognize the challenges faced by adolescent cancer patients, including social needs," noted CINJ Director Dr. Robert S. DiPaola. Giving teenagers a place of their own to talk and interact helps improve their well-being while they undergo cancer treatment.  By recognizing Teen Cancer Awareness Week, we are all reminded of the unique needs for cancer prevention, research, education and care for this population."
From left top: Alicia's parents Gisele and Mario DiNatale, Senator James Beach, CINJ Director Dr. Robert DiPaola.  From left bottom: Commissioner Poonam Alaigh, David Vereb, and Assemblyman Louis Greenwald.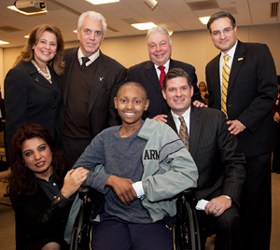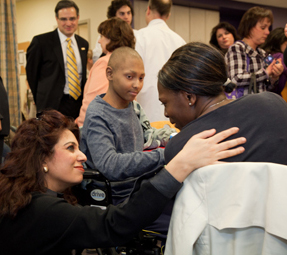 Commissioner Alaigh spends time with CINJ's  patients and their families.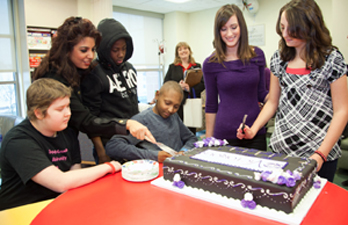 Celebrity Chef Buddy Valastro of Carlo's Bake Shop of Hoboken  and TLC's Cake Boss provided a cake for the event.