The Cancer Institute of New Jersey Helps Develop Nationwide Prostate Cancer Consortium
Center Director Receives $1.6M from Department of Defense to Support Joint Effort by 13 NCI-designated Cancer Centers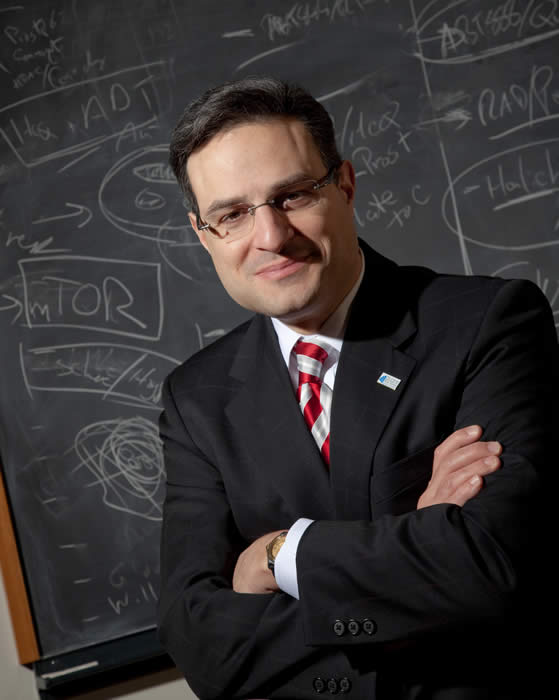 New Brunswick, N.J.– Robert S. DiPaola, MD, the director of The Cancer Institute of New Jersey (CINJ), has been awarded $1.6 million by the Department of Defense (DoD) to fund CINJ's participation in a nationwide consortium of 13 National Cancer Institute (NCI)-designated Cancer Centers engaged in innovative and collaborative research to tackle prostate cancer. Dr. DiPaola notes, as New Jersey's only NCI-designated Comprehensive Cancer Center, CINJ will be able to significantly expand clinical trial options for patients with prostate cancer across the state thanks to this support.    CINJ is a Center of Excellence of UMDNJ-Robert Wood Johnson Medical School.
According to the American Cancer Society, prostate cancer is the second leading cause of cancer death in men, and strikes one in six men in this country.  In New Jersey alone, 6,000 new cases of the disease are expected this year with 192,000 new cases nationally.  DiPaola, an internationally known expert on prostate cancer who is also a professor of medicine at UMDNJ-Robert Wood Johnson Medical School, said, "These statistics indicate that prostate cancer is common and complex. By combining the efforts of NCI Cancer Centers from multiple states, we will be able to maximize our ability to defeat this disease.  We are grateful for this support from the Department of Defense." 
The DoD Clinical Consortium grant (W81XWH-09-1-0145) is part of the DoD Prostate Cancer Research Program, which awards centers with scientifically outstanding prostate cancer programs. The funding will support CINJ in developing prostate cancer research studies that can be implemented by the other participating members. The mission of the consortium is to create and continuously improve a multi-center operational environment that enables and promotes collaborative cancer research both within and among institutions.
DiPaola, who has served for the past six years as chair of the Genitourinary Committee of the national multi-center clinical trials cooperative group known as the Eastern Cooperative Oncology Group, notes the unique resources available to CINJ make it an ideal participant in this venture.  "Because of CINJ's considerable experience in coordinating and contributing to multi-center studies, we feel confident that we will be able to have a significant impact on the consortium through clinical trial accrual and the creation of additional studies based on the unique laboratory science being conducted at CINJ," he said.
The 12 other participating institutions are:  Beth Israel Deaconess Medical Center/Dana-Farber/Partners Cancer Care, Duke University, Johns Hopkins University, Memorial Sloan-Kettering Cancer Center, Oregon Health and Science University, the University of California-San Francisco, the University of Chicago, the University of Michigan, University of Texas-M.D. Anderson Cancer Center, University of Washington, University of Wisconsin, and Wayne State University.  The five-year award period runs through March 31, 2014. 

About The Cancer Institute of New Jersey
The Cancer Institute of New Jersey is the state's first and only National Cancer Institute-designated Comprehensive Cancer Center, and is dedicated to improving the prevention, detection, treatment and care of patients with cancer. CINJ's physician-scientists engage in translational research, transforming their laboratory discoveries into clinical practice, quite literally bringing research to life. The Cancer Institute of New Jersey is a center of excellence of UMDNJ-Robert Wood Johnson Medical School. To support CINJ, please call the Cancer Institute of New Jersey Foundation at 1-888-333-CINJ.
The Cancer Institute of New Jersey Network is comprised of hospitals throughout the state and provides a mechanism to rapidly disseminate important discoveries into the community. Flagship Hospital: Robert Wood Johnson University Hospital. Major Clinical Research Affiliate Hospitals: Carol G. Simon Cancer Center at Morristown Memorial Hospital, Carol G. Simon Cancer Center at Overlook Hospital, and Jersey Shore University Medical Center. Affiliate Hospitals: Bayshore Community Hospital, CentraState Healthcare System, Cooper University Hospital*, JFK Medical Center, Mountainside Hospital, Raritan Bay Medical Center, Robert Wood Johnson University Hospital at Hamilton (CINJ at Hamilton), Saint Peter's University Hospital, Somerset Medical Center, Southern Ocean County Hospital, The University Hospital/UMDNJ-New Jersey Medical School*, and University Medical Center at Princeton. *Academic Affiliate