Panera Bread® Honors National Breast Cancer Awareness Month with Pink Ribbon Bagels™
Annual Campaign to Benefit The Cancer Institute of New Jersey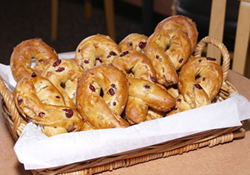 New Brunswick, N.J. – The return of a delectable signature item to Panera Bread® bakery-café locations during the month of October will help New Jersey's only National Cancer Institute-designated Comprehensive Cancer Center tackle a disease that affects one in nearly eight U.S. women – breast cancer. In its tenth year of marking National Breast Cancer Awareness Month across the country, participating Panera Bread bakery-café locations once again will offer their Pink Ribbon Bagel. Proceeds from the local sale of this unique treat will benefit the Cancer Institute of New Jersey (CINJ) Foundation for the fifth year in a row. CINJ is a Center of Excellence of UMDNJ-Robert Wood Johnson Medical School.

CINJ is one of the many breast cancer-related entities nationwide that will receive contributions from the October sale of Panera's Pink Ribbon Bagel – which features cherry chips and real bits of Bing cherries and cranberries and is shaped in the form of a traditional breast cancer awareness ribbon. For every Pink Ribbon Bagel sold in the 37 Panera Bread locations in northern and central New Jersey (www.panerabread.com), ten cents will come back to CINJ for breast cancer research and patient education programs. Over the past four years, more than $28,000 has been raised for CINJ through the effort.

This year, Panera Bread is making it even easier to help fight breast cancer locally with the Power of Pink Baker's Dozen. Throughout the month of October at participating bakery-cafes, one dollar from any baker's dozen of bagels sold also will be donated to support CINJ.

"We applaud Panera Bread's continuing dedication and support to the community" noted CINJ Chief Medical Officer Deborah Toppmeyer, MD, director of both CINJ's Stacy Goldstein Breast Cancer Center and the LIFE Center. "Panera's efforts through the Pink Ribbon Bagel Campaign will aid us as New Jersey's only National Cancer Institute-designated Comprehensive Cancer Center in continuing novel research efforts to improve cancer care and to identify new opportunities for breast cancer prevention," added Dr. Toppmeyer, who is also an associate professor of medicine at UMDNJ-Robert Wood Johnson Medical School.

"The Pink Ribbon Bagel is a customer favorite, in part because it's a delicious way to start the day and because each bagel sold helps bring us one step closer to finding a cure for breast cancer," said Panera Joint Venture Area Director Robert MacEachern. "Panera Bread is proud to work with the communities we serve to help raise money for such a worthy cause. In our market, we are pleased to support the cutting-edge research and programs of The Cancer Institute of New Jersey."

The Panera Pink Ribbon Bagel follows the tradition of "thinking pink" during the month of October in the quest to eradicate breast cancer. The idea for the signature product was developed in 2001 as a way to help support the cause.
About The Cancer Institute of New Jersey
The Cancer Institute of New Jersey (www.cinj.org) is the state's first and only National Cancer Institute-designated Comprehensive Cancer Center dedicated to improving the detection, treatment and care of patients with cancer, and serving as an education resource for cancer prevention. CINJ's physician-scientists engage in translational research, transforming their laboratory discoveries into clinical practice, quite literally bringing research to life. To make a tax-deductible gift to support CINJ, call 732-235-8614 or visit www.cinjfoundation.org. CINJ is a Center of Excellence of UMDNJ-Robert Wood Johnson Medical School. Follow us on Facebook at www.facebook.com/TheCINJ.
The CINJ Network is comprised of hospitals throughout the state and provides the highest quality cancer care and rapid dissemination of important discoveries into the community. Flagship Hospital: Robert Wood Johnson University Hospital. System Partner: Meridian Health (Jersey Shore University Medical Center, Ocean Medical Center, Riverview Medical Center, Southern Ocean Medical Center, and Bayshore Community Hospital). Major Clinical Research Affiliate Hospitals: Carol G. Simon Cancer Center at Morristown Medical Center, Carol G. Simon Cancer Center at Overlook Medical Center, and Cooper University Hospital. Affiliate Hospitals: CentraState Healthcare System, JFK Medical Center, Mountainside Hospital, Robert Wood Johnson University Hospital Hamilton (CINJ Hamilton), Somerset Medical Center, The University Hospital/UMDNJ-New Jersey Medical School*, and University Medical Center at Princeton. *Academic Affiliate
About Panera Bread
Panera Bread Company owns and franchises 1,493 bakery-cafes as of June 28, 2011 under the Panera Bread®, Saint Louis Bread Co.®, and Paradise Bakery & Café® names. We feature high quality, reasonably priced food in a warm, inviting, and comfortable environment. With our identity rooted in handcrafted, fresh-baked, artisan bread, we are committed to providing great tasting, quality food that people can trust. Nearly all of our bakery-cafes have a menu highlighted by antibiotic-free chicken, whole grain bread, and select organic and all natural ingredients, with zero grams of artificial trans fat per serving, which provide flavorful, wholesome offerings. Our menu includes a wide variety of year-round favorites complemented by new items introduced seasonally with the goal of creating new standards in everyday food choices. In neighborhoods across the United States and in Ontario, Canada, our customers enjoy our warm and welcoming environment featuring comfortable gathering areas, relaxing decor, and free internet access. Our bakery-cafes routinely donate bread and baked goods to community organizations in need. Additional information is available on our website, http://www.panerabread.com.