A Sweet Treat Aids Breast Cancer Research at The Cancer Institute of New Jersey
Panera Bread® Pink Ribbon Bagel Campaign Raises Awareness and more than $20,000 over Three Years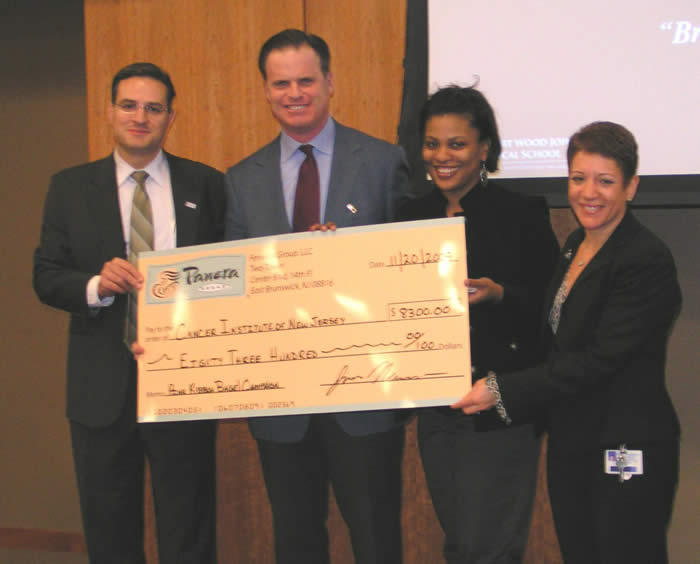 New Brunswick, N.J.– Imagine being able to enjoy a delicious treat sweetened by the knowledge that a contribution to breast cancer research is being made. This was a reality for thousands of New Jersey residents who took part in Panera Bread's® Pink Ribbon Bagel Campaign. Thanks to the success of this year's effort, a check for $8,300 was presented recently to the Cancer Institute of New Jersey (CINJ) Foundation from the Fenwick Group franchise of Panera Bread.  CINJ is a Center of Excellence of UMDNJ-Robert Wood Johnson Medical School.
CINJ is one of the many breast cancer-related entities nationwide that received proceeds from the sale of Panera's signature Pink Ribbon Bagel, which features cherry chips and real bits of bing cherries and cranberries and is shaped in the form of a traditional breast cancer awareness ribbon. Twenty-five cents of every Pink Ribbon Bagel sold in the 37 Panera Bread locations in Northern and Central New Jersey owned and operated by the Fenwick Group franchise entity was given to CINJ for breast cancer research and patient education programs.
In addition to the bagels, pink baseball caps were sold for the first time with profits going to support CINJ. Over the last three years, $20,300 has been raised for CINJ through the effort, which is designed to bring about breast cancer awareness during the month of October.
Jim Nawn, owner of the Panera Bread franchise, says the success of the campaign over the 31-day period is an achievement that shows the public's awareness of the critical need for more research. "We at Panera have made it easy to make joining the fight against breast cancer a part of anyone's daily routine," Nawn adds.  "Serving our community has always been a priority and by supporting the ground-breaking work being done at CINJ, we have an opportunity to touch so many lives."
John Goldner, interim executive director of the CINJ Foundation, notes that with the number of new breast cancer cases in New Jersey expected to exceed 6,400 this year, every contribution is significant. "The Pink Ribbon Bagel campaign helps inform the public about the need for prevention, early detection and awareness of breast cancer.  We are grateful for the continued support of the Fenwick Panera Cafés in this effort," he said.
The Panera Pink Ribbon Bagel follows the tradition of 'thinking pink' during the month of October in the quest to eradicate breast cancer disease. The idea for the signature product was developed in 2001 as a way to help support the cause. 

About The Cancer Institute of New Jersey
The Cancer Institute of New Jersey is the state's first and only National Cancer Institute-designated Comprehensive Cancer Center, and is dedicated to improving the prevention, detection, treatment and care of patients with cancer. CINJ's physician-scientists engage in translational research, transforming their laboratory discoveries into clinical practice, quite literally bringing research to life. The Cancer Institute of New Jersey is a center of excellence of UMDNJ-Robert Wood Johnson Medical School. To support CINJ, please call the Cancer Institute of New Jersey Foundation at 1-888-333-CINJ.
The Cancer Institute of New Jersey Network is comprised of hospitals throughout the state and provides a mechanism to rapidly disseminate important discoveries into the community. Flagship Hospital: Robert Wood Johnson University Hospital. Major Clinical Research Affiliate Hospitals: Carol G. Simon Cancer Center at Morristown Memorial Hospital, Carol G. Simon Cancer Center at Overlook Hospital, and Jersey Shore University Medical Center. Affiliate Hospitals: Bayshore Community Hospital, CentraState Healthcare System, Cooper University Hospital*, JFK Medical Center, Mountainside Hospital, Raritan Bay Medical Center, Robert Wood Johnson University Hospital at Hamilton (CINJ at Hamilton), Saint Peter's University Hospital, Somerset Medical Center, Southern Ocean County Hospital, The University Hospital/UMDNJ-New Jersey Medical School*, and University Medical Center at Princeton. *Academic Affiliate
About Panera Bread
Panera Bread of Northern and Central New Jersey (www.paneranj.com) is owned by the Fenwick Group LLC, a family run business that has been in operation since 1999 based in East Brunswick, NJ. With its identity rooted in handcrafted, fresh-baked, artisan bread, Panera Bread is committed to providing great tasting, quality food that people can trust. Highlighted by antibiotic free chicken, whole grain bread, select organic and all-natural ingredients and a menu with zero grams added trans fat, Panera's bakery-cafe selection offers flavorful, wholesome offerings. The menu includes a wide variety of year-round favorites, complemented by new items introduced seasonally with the goal of creating new standards in everyday food choices. Fenwick owns and operates 37 bakery-cafes located throughout northern and central NJ.