A 'Night of Illusions' Will Celebrate Pillars of New Jersey's Cancer Community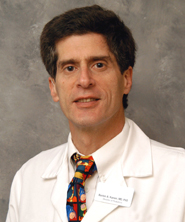 New Brunswick, N.J.
– For all the 'magic' he has performed in helping young people with cancer, the immediate past chief of Pediatric Hematology/Oncology and associate director at The Cancer Institute of New Jersey (CINJ) will be celebrated during a 'Night of Illusions' at the annual Award of Hope Gala hosted by the CINJ Foundation. Selected honorees are recognized for their dedication to the fight against cancer and reflect the spirit, passion and energy of CINJ. CINJ is a Center of Excellence of the University of Medicine and Dentistry of New Jersey-Robert Wood Johnson Medical School.
This year's Award of Hope Gala will be held at The Somerset Palace in Somerset on October 25. Barton A. Kamen, MD, PhD, will be honored that evening with the "Award of Hope for Leadership in Research and Patient Care." He currently volunteers his time at CINJ seeing pediatric cancer patients and is known for his classic black doctor's bag filled with squirting flowers, decks of cards, never-ending scarves and other tricks of the trade that make for a great magician. While not a magician in the regular sense, Dr. Kamen has always had the ability of making one thing disappear…fear. For minutes, sometimes even hours, he helps a child feel just like a regular kid again – instead of a kid who is being treated for cancer.
An American Cancer Society Professor, Kamen is the current Editor in Chief of the Journal of Pediatric Hematology/Oncology. He also sits on a number of national cancer-related boards and committees and for some 40 years has dedicated his research activities with much success to the areas of folate biochemistry and anti-folate pharmacology.
But many argue Kamen's greatest achievement is the many lives he has touched over the years through his compassionate care and warm, nurturing demeanor. "There are some pediatric practitioners who need to distance themselves personally from their patients, in order to not 'bring their work home with them.' It's something I just can't do. Each one of my patients and their families are a part of me. And while I educate them and laugh with them, there are times when I also cry with them," he says. "By allowing myself to be human and interact with them in this way, I can truly treat them as an individual instead of just another case. I firmly believe that makes a huge difference in a child's outcome."
Also to be recognized at the Award of Hope Gala is Embrace Kids Foundation, which will be honored with the "Award of Hope for Philanthropic Leadership." Formed 21 years ago as The Institute for Children with Cancer and Blood Disorders, the New Brunswick-based entity provides more than $1 million per year in services to children and families throughout the Garden State – including those patients seen in the Pediatric Hematology/Oncology program at CINJ.
PricewaterhouseCoopers LLP (PwC) has been named as the recipient for this year's "Award of Hope for Leadership in Corporate Philanthropy." Mark Simon, who is a partner at the firm, will accept the award on its behalf. PwC has been a tremendous supporter of the CINJ Foundation for the last 16 years, and Mr. Simon has served on the Board of CINJ Directors from 1999 until 2006. Both Mr. Simon and his wife, Tracey, have been active volunteers with the CINJ Foundation over the years and Mrs. Simon continues to serve on the Award of Hope Gala Committee.
Contact Leanne Kochy at leannekochy@cinjfoundation.org or 732-235-4956 for more information about the Award of Hope Gala.
About The Cancer Institute of New Jersey
The Cancer Institute of New Jersey (www.cinj.org) is the state's first and only National Cancer Institute-designated Comprehensive Cancer Center dedicated to improving the detection, treatment and care of patients with cancer, and serving as an education resource for cancer prevention. CINJ's physician-scientists engage in translational research, transforming their laboratory discoveries into clinical practice, quite literally bringing research to life. To make a tax-deductible gift to support CINJ, call 732-235-8614 or visit www.cinjfoundation.org. CINJ is a Center of Excellence of the University of Medicine and Dentistry of New Jersey-Robert Wood Johnson Medical School. Follow us on Facebook at www.facebook.com/TheCINJ.

The CINJ Network is comprised of hospitals throughout the state and provides the highest quality cancer care and rapid dissemination of important discoveries into the community. Flagship Hospital: Robert Wood Johnson University Hospital. System Partner: Meridian Health (Jersey Shore University Medical Center, Ocean Medical Center, Riverview Medical Center, Southern Ocean Medical Center, and Bayshore Community Hospital). Major Clinical Research Affiliate Hospitals: Carol G. Simon Cancer Center at Morristown Medical Center, Carol G. Simon Cancer Center at Overlook Medical Center, and Cooper University Hospital. Affiliate Hospitals: CentraState Healthcare System, JFK Medical Center, Robert Wood Johnson University Hospital Hamilton (CINJ Hamilton), Somerset Medical Center, The University Hospital/UMDNJ-New Jersey Medical School*, and University Medical Center of Princeton at Plainsboro. *Academic Affiliate