Free Prostate Cancer Screenings Offered
The Cancer Institute of New Jersey and Robert Wood Johnson University Hospital Open Registration for Annual Fall Screening Event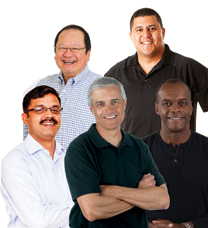 New Brunswick, N.J.
– In recognition of National Prostate Cancer Awareness Month in September, The Cancer Institute of New Jersey (CINJ) and its flagship hospital Robert Wood Johnson University Hospital (RWJUH) once again are teaming up to provide free prostate cancer screenings to men across the state on September 18, 19 and 20. CINJ is a Center of Excellence at the University of Medicine and Dentistry of New Jersey-Robert Wood Johnson Medical School.
One in six men will be diagnosed with prostate cancer and it is the most frequently diagnosed cancer in men other than skin cancer, according to the American Cancer Society. That is why CINJ and RWJUH join forces each year to educate men and their families about this disease through the annual screening event, which over the past six years has seen nearly 3,000 men tested -- 700 last year alone.
The event, now in its fourteenth year, has long been supported by local clergy and civic leaders who disseminate screening information throughout the community. Earlier this summer, PRAB (Puerto Rican Action Board) and Mount Zion AME Church in New Brunswick were honored for their ongoing dedication to educating the community about the event. According to Mariam Merced, director of RWJUH's Community Health Promotion Program, many others are involved as well. "From barber shops in New Brunswick to church groups in Elizabeth and other entities from throughout the region, so many men are being educated about the importance of screening," she said. "And the message is viral. Many times, we see these men bring a friend or a relative back the following year. This translates into the potential for more lives to be saved."
At the screening, men will receive a digital rectal exam and a prostate specific antigen (PSA) blood test, as well as prostate-specific literature, and have the opportunity to speak to a urologic oncologist from the Dean and Betty Gallo Prostate Cancer Center at CINJ. Assistance for Spanish speakers will be available.
"In New Jersey, 7,500 new cases of prostate cancer are expected to be diagnosed by year's end with 720 deaths. With this simple screening method, we have an opportunity to detect potentially harmful cancers at an earlier and more curable stage," said CINJ urologic oncologist Thomas L. Jang, MD, MPH, who heads the clinical component of the annual screening event. "All men 40 and older, as well as men with a family history of prostate cancer and those most at risk – such as African American men – should discuss with their physician an appropriate screening schedule and at what age to begin. And especially if a man doesn't have a family physician or health insurance, this free screening will provide men with an opportunity to better protect their prostate health," noted Dr. Jang, who is also an assistant professor of surgery at UMDNJ-Robert Wood Johnson Medical School.
Registration is now open for the screenings, which run from 5:00 to 8:00 p.m. all three evenings at CINJ (195 Little Albany Street, New Brunswick) and are open to all men 40 and older. Limited free parking will be available. For those taking mass transit, CINJ is one block south of the New Brunswick train station. While the screenings are free, an appointment is necessary and can be made by calling 1-888-MD-RWJUH (1-888-637-9584). Additional information can be found at: http://www.cinj.org/prostatescreenings.
About The Cancer Institute of New Jersey
The Cancer Institute of New Jersey (www.cinj.org) is the state's first and only National Cancer Institute-designated Comprehensive Cancer Center dedicated to improving the detection, treatment and care of patients with cancer, and serving as an education resource for cancer prevention. CINJ's physician-scientists engage in translational research, transforming their laboratory discoveries into clinical practice, quite literally bringing research to life. To make a tax-deductible gift to support CINJ, call 732-235-8614 or visit www.cinjfoundation.org. CINJ is a Center of Excellence of the University of Medicine and Dentistry of New Jersey-Robert Wood Johnson Medical School. Follow us on Facebook at www.facebook.com/TheCINJ.

The CINJ Network is comprised of hospitals throughout the state and provides the highest quality cancer care and rapid dissemination of important discoveries into the community. Flagship Hospital: Robert Wood Johnson University Hospital. System Partner: Meridian Health (Jersey Shore University Medical Center, Ocean Medical Center, Riverview Medical Center, Southern Ocean Medical Center, and Bayshore Community Hospital). Major Clinical Research Affiliate Hospitals: Carol G. Simon Cancer Center at Morristown Medical Center, Carol G. Simon Cancer Center at Overlook Medical Center, and Cooper University Hospital. Affiliate Hospitals: CentraState Healthcare System, JFK Medical Center, Robert Wood Johnson University Hospital Hamilton (CINJ Hamilton), Somerset Medical Center, The University Hospital/UMDNJ-New Jersey Medical School*, and University Medical Center of Princeton at Plainsboro. *Academic Affiliate
About Robert Wood Johnson University Hospital
Robert Wood Johnson University Hospital (RWJUH) is a 600-bed academic medical center and the principal hospital of UMDNJ-Robert Wood Johnson Medical School in New Brunswick, NJ. Robert Wood Johnson is an innovative leader in advancing state-of-the-art care. RWJUH is the first hospital in the nation to implant the AbioCor self-contained artificial heart since the device received FDA approval in 2006. RWJUH is one of only three sites in the nation approved to offer this groundbreaking technology. Its Centers of Excellence include cardiovascular care from minimally invasive heart surgery to transplantation, cancer care, and women's and children's care including The Bristol-Myers Squibb Children's Hospital at Robert Wood Johnson University Hospital (www.bmsch.org). The hospital is also a Level 1 Trauma Center and serves as a national resource in its ground-breaking approaches to emergency preparedness. The hospital has earned significant national recognition for clinical quality and patient safety. RWJUH ranks among the best hospitals in America, according to U.S.News & World Report's 2011 ranking of "America's Best Hospitals." It is the fifth consecutive year that RWJUH has achieved this prestigious ranking. The Bristol-Myers Squibb Children's Hospital is also ranked among the nation's Best Children's Hospitals by U.S.News & World Report. The American College of Surgeons' Commission on Cancer has rated RWJUH among the nation's best comprehensive cancer centers. The Leapfrog Group rated RWJUH as one of the 50 exceptional U.S. hospitals, as published in Consumers Digest magazine, and has given the hospital an "A" grade for safety and quality. Harvard University researchers, in a study commissioned by The Commonwealth Fund, identified RWJUH as one of the top 10 hospitals in the nation for clinical quality. RWJUH is also a four-time recipient of the prestigious Magnet Award for Nursing Excellence. Visit us online at www.rwjuh.edu.