Foundation for The Cancer Institute of New Jersey Welcomes New Leaders
Chief Compliance Officer of Major Health Insurer and Prominent Lawyer Appointed to Positions on Board of Trustees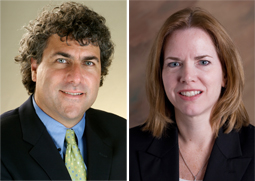 New Brunswick, N.J. – The Cancer Institute of New Jersey (CINJ) Foundation has named Colleen D. Brennan of Fair Haven and Michael E. Lubowitz of Mountain Lakes the newest members of its Board of Trustees. The CINJ Foundation is a non-profit 501(c)(3) organization devoted to raising funds to support CINJ, which is a Center of Excellence of UMDNJ-Robert Wood Johnson Medical School. CINJ is New Jersey's only National Cancer Institute-designated Comprehensive Cancer Center, an elite distinction held by only 40 centers in the country.
Colleen D. Brennan, Esq.
Colleen D. Brennan is a Vice President and Chief Compliance Officer at Horizon Blue Cross Blue Shield of New Jersey (Horizon BCBSNJ), which serves approximately 3.6 million members. Horizon BCBSNJ is well known as the state's oldest and largest health insurer and a non-profit health service corporation.
Brennan has practiced health care law extensively during her career. She currently serves as a member of the Horizon BCBSNJ Corporate Compliance and Integrity Program Committee and as Assistant Secretary to the Board of Directors for Horizon BCBSNJ and its subsidiaries. Brennan also held positions as Vice President, Legal Affairs, and Deputy General Counsel at Horizon BCBSNJ. In these roles she advised senior management on legal and regulatory issues relating to insurance, managed care, health maintenance organizations and pharmacy. She previously served as Assistant General Counsel at Prudential Financial, Inc., and as Counsel at Aetna, Inc.
Brennan received her Bachelor of Science in Business Administration degree in Finance from Georgetown University and her Juris Doctor from Seton Hall University School of Law. She served as the Notes and Comments Editor for the Seton Hall Law Review and is currently a member of the Georgetown University Alumni Admissions Program. In 2011, Brennan was the recipient of the New Jersey Women Lawyers Association Women's Initiative & Leaders in Law Platinum Award.
Michael E. Lubowitz, Esq.
The co-head of Weil, Gotshal & Manges' New York Private Equity and Mergers and Acquisitions Department, Michael E. Lubowitz is a noted attorney, representing public and private companies in a broad range of transactions. Lubowitz has advised clients that include CBS Corporation, C.R. Bard, DIRECTV, Lehman Brothers, and Verizon, Inc., among others. His work has earned him several awards, including recognition in the 2005 National Law Journal's "40 Under 40," and in 2010 and 2011 by Chambers USA as a leading lawyer in Mergers and Acquisitions.
Lubowitz is an active participant in various pro bono and non-for-profit matters. Various areas of participation include providing counsel to youth organizations, services to Holocaust survivors, and counsel to an Iraqi citizen who provided valuable assistance to the U.S. government.
Lubowitz received his Bachelor of Arts degree from Brandeis University and his Juris Doctor from American University Washington College of Law. He is currently a member of the Corporation Law Committee of the New York State Bar Association and of the Financial Reporting Committee of the New York City Bar Association.
Subha V. Barry, chair of the CINJ Foundation Board of Trustees, says the two newest members will be great assets to the CINJ Foundation. "The extensive health and business law expertise from Ms. Brennan and Mr. Lubowitz complements the vast collective experience held by our Board. In propelling the CINJ mission of conducting ground-breaking research, providing innovative cancer treatment, and facilitating prevention and education programs, these new members surely will help make an impact on that progress."
About The Cancer Institute of New Jersey
The Cancer Institute of New Jersey (www.cinj.org) is the state's first and only National Cancer Institute-designated Comprehensive Cancer Center dedicated to improving the detection, treatment and care of patients with cancer, and serving as an education resource for cancer prevention. CINJ's physician-scientists engage in translational research, transforming their laboratory discoveries into clinical practice, quite literally bringing research to life. To make a tax-deductible gift to support CINJ, call 732-235-8614 or visit www.cinjfoundation.org. CINJ is a Center of Excellence of UMDNJ-Robert Wood Johnson Medical School. Follow us on Facebook at www.facebook.com/TheCINJ.
The CINJ Network is comprised of hospitals throughout the state and provides the highest quality cancer care and rapid dissemination of important discoveries into the community. Flagship Hospital: Robert Wood Johnson University Hospital. System Partner: Meridian Health (Jersey Shore University Medical Center, Ocean Medical Center, Riverview Medical Center, Southern Ocean Medical Center, and Bayshore Community Hospital). Major Clinical Research Affiliate Hospitals: Carol G. Simon Cancer Center at Morristown Medical Center, Carol G. Simon Cancer Center at Overlook Medical Center, and Cooper University Hospital. Affiliate Hospitals: CentraState Healthcare System, JFK Medical Center, Mountainside Hospital, Robert Wood Johnson University Hospital Hamilton (CINJ Hamilton), Somerset Medical Center, The University Hospital/UMDNJ-New Jersey Medical School*, and University Medical Center at Princeton. *Academic Affiliate