100-Mile Bike Ride Breaks Record in Raising $200,000 to Benefit Cancer Research
'Century for the Cure' Bike Ride Supports Programs at CINJ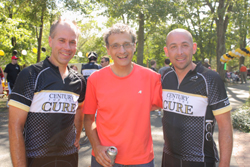 New Brunswick, N.J.– The efforts of 140 dedicated cyclists and 100 volunteers for this year's Century for the Cure bike ride have resulted in $200,000 being given to the Cancer Institute of New Jersey (CINJ) Foundation.  A check presentation was held recently to mark the success of the sixth-annual event, which continues to support research and treatment at New Jersey's only NCI-designated Comprehensive Cancer Center. CINJ is a Center of Excellence of UMDNJ-Robert Wood Johnson Medical School.  
The 100-mile Century for the Cure event was created out of the desire by Warren Township resident Scott Glickman, a cycling enthusiast, to "give back" to CINJ.  He was treated successfully at the New Brunswick facility during his battle with stage four non-Hodgkin's lymphoma more than a decade ago.   The event takes place at Camp Riverbend in Warren Township and attracts seasoned bike riders, first-timers, virtual riders who raise and donate funds without physically riding and event volunteers who want to help the cause.
Since the ride's inception in 2005, more than $625,000 has been raised for cutting-edge research in multiple disciplines at CINJ.  A portion of the funds raised this year will support the work of Roger Strair, MD, PhD, director of CINJ's Hematologic Malignancies Program and professor of medicine at UMDNJ-Robert Wood Johnson Medical School, who was Glickman's oncologist.  Previous support of Dr. Strair's work through the Century ride has resulted in CINJ being able to apply for and receive more than $600,000 in grant money for research of hematologic malignancies.
"Because of the continuing growth of the Century bike ride and Scott's tireless dedication, we continue to gain new opportunities in finding the next generation of cancer therapies," noted Strair.  "We are grateful for his commitment to giving back to CINJ."
Glickman is pleased to see the efforts of a greater 'community' coming together.  "We have an amazing group of riders and volunteers who participate in the Century for the Cure.  It is very rewarding to be part of such a wonderful group of people, working together towards a common goal, with such terrific results. The combined efforts of our participants to support the cutting-edge research being done at The Cancer Institute of New Jersey will have tremendous bearing on future cancer treatments," he said.
This year's ride, held in September, was sponsored by Capital One Bank, Whole Foods, Benefit Sources and Solutions, Genentech, Powerade, High Gear Cyclery and Overton Customs Brokers.

About The Cancer Institute of New Jersey
The Cancer Institute of New Jersey (www.cinj.org) is the state's first and only National Cancer Institute-designated Comprehensive Cancer Center dedicated to improving the detection, treatment and care of patients with cancer, and serving as an education resource for cancer prevention. CINJ's physician-scientists engage in translational research, transforming their laboratory discoveries into clinical practice, quite literally bringing research to life.  To make a tax-deductible gift to support CINJ, call 732-235-8614 or visit www.cinjfoundation.org. CINJ is a Center of Excellence of UMDNJ-Robert Wood Johnson Medical School. 
The CINJ Network is comprised of hospitals throughout the state and provides a mechanism to rapidly disseminate important discoveries into the community. Flagship Hospital: Robert Wood Johnson University Hospital. Major Clinical Research Affiliate Hospitals: Carol G. Simon Cancer Center at Morristown Memorial Hospital, Carol G. Simon Cancer Center at Overlook Hospital, Cooper University Hospital and Jersey Shore University Medical Center. Affiliate Hospitals: Bayshore Community Hospital, CentraState Healthcare System, JFK Medical Center, Mountainside Hospital, Raritan Bay Medical Center, Robert Wood Johnson University Hospital at Hamilton (CINJ at Hamilton), Saint Peter's University Hospital, Somerset Medical Center, Southern Ocean County Hospital, The University Hospital/UMDNJ-New Jersey Medical School*, and University Medical Center at Princeton. *Academic Affiliate